One feature sites Facebook that users of this social networks I love and hate equally is notification seen which warns senders private messages (Facebook Chat or Messages) Whether they were or not read. While this feature useful for those who send messages, those receiving these messages would most likely want to block this notification reason (or do not have time to respond in time or do not want one who sent the message to find it it has already been read, etc.), so that it is no longer displayed when messages are read.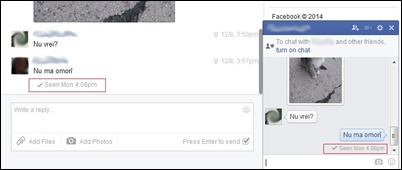 Although Facebook does not allow users to disable this feature in the network settings, there are methods by which users can Seen notification block reading messages to be displayed, such method being the use of extensions Facesnoop or Facebook Chat Privacy for the Google Chrome browser.
Facesnoop prevents both Facebook and users who sent messages to find out if they have already been read (although users can read incoming messages like before installing the extension, it blocks Facebook to check whether the messages were read and thus will not display Seen notification). In addition, the extension is activated immediately after installation, not necessary restartbrowser area.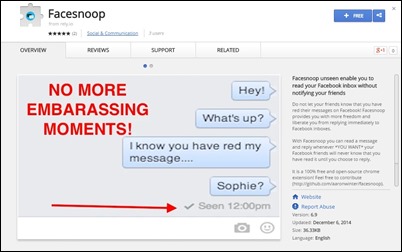 Facebook Chat Privacy Facesnoop extension works like this blocking, besides Seen notification and status "is typing"Displayed when users respond to messages.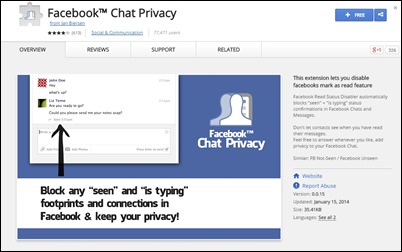 Download Facesnoop (Chrome Extension).
Download Facebook Chat Privacy (Chrome Extension).
Note: Facesnoop and Facebook Chat Privacy extensions only work on your Chrome browser. if after installing one of the two extensions you will access Facebook from another browser or other device, the Seen notification will be displayed when you read the received messages. For other browsers (Firefox, Opera and Chrome) you can install the extension Social ReviverAnd the Facebook mobile application you can install Privy Chat for Facebook (Android) or application unread (IOS).
STEALTH SETTINGS - How to block Seen notification in Facebook Chat / Messages
HOW CAN WE SEEN IN FACEBOOK CHAT block notifications / messages