If your PC is switched (the second or even third) youthThen surely bIOS it is enough "older" so as to not allow booting from a USB flash. But if you give is not beaten, because there Poplar Boot Manager, a program free (freeware) With which you can create a CD or floppy disk (Floppy) - certainly so if your BIOS has not heard of USB: P - to make available option to boot from USB even for computers retirement (Not to be confused with the fossilized already).
How can we activate the option "Boot from USB device"
First you need to download Poplar Boot Manager (Supplied in the form of archive) And then burn it to a CD / floppy disk.
If you opt for the CD, you need one of the two files . Iso – plpbt.iso si plpbtnoemul.iso - Archive (the instructions found in "package" it appears that plpbtnoemul.iso would be absolutely compatible with any type of computer. I had only one "veteran" - which functioned including plpbt.iso, so not we can confirm - nor disprove - the relevant statement).
If you prefer to try version disketteYou have to use a utility additional, named RawWrite for Windows with which to write to floppy disk file contents plpbt.img (Also available in archive).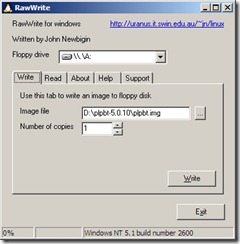 To boot poplar Manager, you first need to make sure that CD or floppy drive is set to boot first. enter BIOS (Or menu Setup), Then go to the section boot or AdvancedDepending on the type of BIOS. Then insert the CD in optical drive (Or floppy disk in the floppy drive), and if the instructions were followed exactly, should Boot Manager poplars begin to run and provide some startup options, including that of boot from the USB.
Download poplar Boot Manager.
RawWrite download for Windows.
Mission accomplished!
How can boot from a USB device even if you do not have this option in BIOS