To OS Windows previous Windows 8 no longer boots directly desktopBut instead it is displayed in the new Start Screen. Although enthusiasts Metro interface this novelty can be welcomed, there are quite a few users who would like that Windows 8 to be a bit more classic, and who prefer to be greeted by Desktop when I open computer and not the Start Screen.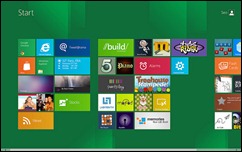 If you are among the latter, most likely you will want to skip Start ScreenAnd the system to display directly DesktopCPC when booting.
Skip Metro Suite is a new free tool allowing users Windows 8 RTM sa disable some Metro feature links of the system. using Skip Metro Suite, you can disable Automatic Start Screen display's right after system boot. You only have to install the application, to run, and check the option Skip Start Screen (Automatically switch to Classic Desktop after logon).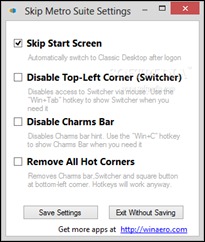 Also using Metro Skip Suite can disable both Switcher and the Charms menu.
Note: The application has not been tested on Windows NEVER Developer Preview.
STEALTH SETTINGS - How to boot Windows 8 RTM directly to Classic Desktop
How can we boot Windows 8 RTM directly in Desktopthe classic