Very few users Windows May use only one browser to surf the internet, Most regularly used two or even three Web-browsers. If you're part of this class, definitely you often know in case you wanted to find a url that you have access to a point on one of the browsers used, and a few days later you do not remember from where. One solution is to look in Each browser history used, and if you are lucky, you will probably find quite rapidly. But if you're lucky, this activity can eat precious time and can be very very boring.
Another solution, more efficiency and more fast is to use a third-party applications, namely Internet Browser History, With which users can gather in one place all urls accessed for a certain period (depending on the retention period of history is set for each browser separately) on all browsers used to surf the internet.
Internet Browser History is a free application si portable (No installation required) that scans the histories of all browsers installed in the system, such as Internet Explorer, Google Chrome, Opera, Firefox or SafariAnd gather them in one place to facilitate search some urls for users.
How does Internet History Browser?
After you launch the application, click on green buttonThen you have to wait a little until they are scanned Browsers histories installed system (How long you wait depends on the amount of data available to them). After posting to with histories recorded urls browser, type in Search site located at the top of the application keywords that we remember from the url you want to search, then wait to be listed all URLs with keywords related sites question. Select the url you are interested to find out when and what browser was accessed, then click on the Open located in the upper right corner of the application to open the URL.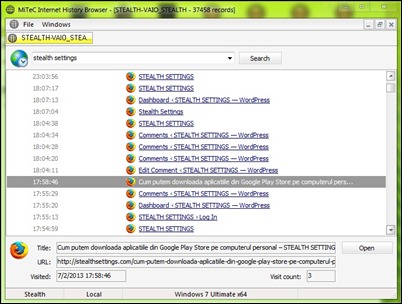 Download Internet History Browser.
Note: Application compatible with Windows XP, Windows Vista, Windows 7 and Windows 8 (32 and 64 bits).
STEALTH SETTINGS - How to Search History of all installed browsers in Windows
How to find the history of all browsers installed in Windows