Each user Windows (And beyond) its sort files stored Hard Drive depending on your preference: after file typeAfter extensions them by the date they were created, by meaning, etc.. Inevitably, after some period of time, is going to uncover that system There are many folders the same type of content (regardless of the criterion by which it is sorted), and want to combine them into a single folder or for faster access or to order the system.
Combining multiple contents folders (and subfolders) In one folder is often an action that can last a long time, so it is pretty boring. To avoid making manual such a taskusers Windows can call a third-party application, namely Folder Merger.
Folder Merger is a free application si portable (No installation required) that allows Windows users to quickly and easily combine contents multiple folders into one. Interface it is minimalist and easy to understand, and does not have settings or feature for advanced.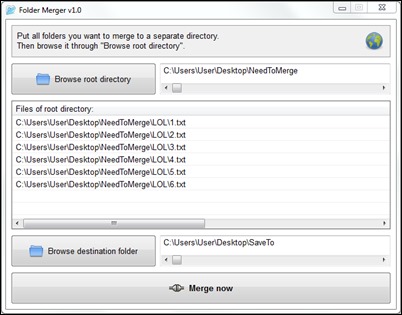 How to use Folder Merger?
copy all folders you wish to combine in a single folder
then open the app and click the button Browse root directory
Select the folder that contains all the folders whose contents you want to combine (Folder Merger then displays list All files contained within those folders)
click on Browse destination folder and select location where you want to store the contents of the folders combined
then finally click on the Merge now
The process of combining the contents of several folders can take up to several minutes, depending on how big it is Number of files stored in those folders.
Download Folder Merger for Windows.
Note: App compatible with Windows XP, Windows Vista, Windows 7 and Windows 8
STEALTH SETTINGS - How to Quickly go contents of multiple folders into Windows Only One
How quickly we can combine the contents of several folders in one single Windows