If you have not already shortcuts required on the keyboard (or already have, but it comes easier to use the mouse) and want an easier way to control the volume in Windows, The solution for you is called Volumouse.
Although the default mode shares can be affectionate with a mouse are to select, To give click or unwind (scroll), There are many tweaks or third-party applications which can add various features thereof. Volumouse It is one such application, available free, With which users can add mouse functionality to control the volume of the sound in Windows via scroll wheel.
How does Volumouse?
By default, when you want to modify the speaker volume in a WindowsNeed to click on volume icon from systrayAnd then adjust the volume using the mouse cursor (or arrow keys up and down arrow). Using Volumouse application, all you have to do to control the volume is to turn the scrolling the mouse up or down.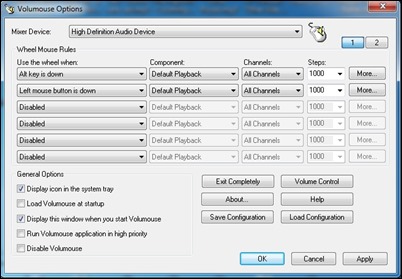 To avoid overlap volume control functionality plague default scrolling functionality the scroll wheel in Volumouse have the opportunity to set a number of Conditions that must be met in order to modify the sound using the mouse wheel (for example, you can set to have to hold down OTHER and the scroll wheel at the same time to control the volume, or to hold one of mouse buttons while turning the mouse scroll up or down). You can also set many a different rules for different media devices connected to the system (headphones, speakers, microphone, etc.), and for each rule you can set the app to respond to it by clicking on the More (For example, you can set a rule to be valid for all media applicationsOne to be valid only for application in focusAnd other rules are available for various applications).
Options / settings Volumouse can be accessed by clicking on the application icon displayed in systray (If after the installation of its icon in systray does not appear, look in Start Menu and open it from there, then the setup window under General Options, Check Display icon in the system tray).
Download Volumouse for Windows.
Notes: Compatible with Windows 2000, Windows XP, Windows Vista, Windows 7 and Windows 8. In order for Volumouse to work for applications running as administrator (when you have USC enabled), you must also run these applications with administrator rights.
STEALTH SETTINGS - How to control Windows sound volume using mouse scroll wheel
How can we control the volume of sound in Windows using the scroll wheel of the mouse