O option which I personally have always felt that it would be broken to exist default in Windows user is able to fast copy (If needed) to the clipboard path (path) to a folder or file. Of course, it is possible to copy the path of a folder from address bar from Windows ExplorerAnd if a file should be added manual, The path to the folder where that file is, and name its (and name of a file may not be copied without it (name) to be first selected / highlighted).
Path Copy Copy is a free application that allows Windows users to fast copy to clipboard path to a folder or file directly from right-click menu (context Menu), So users will not have to select the path to it in the address bar of Windows Explorer. After installation, the software integrates into context MenuAnd users will be able to copy the name of a folder / file or path to it with a simple right click.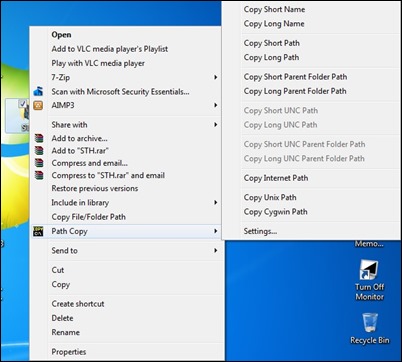 In addition, Path Copy Copy includes some commands for copying something more advanced, namely:
Copy Short Name
Copy Long Name
Copy Short Path
Copy Long Path
Short Copy Parent Folder Path
Copy Long Path Parent Folder
Short Copy UNC Path
Copy Long UNC Path
Copy Short UNC Path Parent Folder
Copy Long UNC Path Parent Folder
Copy Internet Path
Copy Unix Path
Copy Cygwin Path
When the user selects one of the commands listed above, content that relates to the order that is copied clipboard and can be Soldering immediately (Easter) In a document, text file, etc. order.
If the commands listed above are too much for you (most likely most users will only need options copy the path to the folder / file or name it), you can hide some of them (as desired) access Settings from context Menu (Copy Path> Settings), Then tab Commands (uncheck commands that do not need).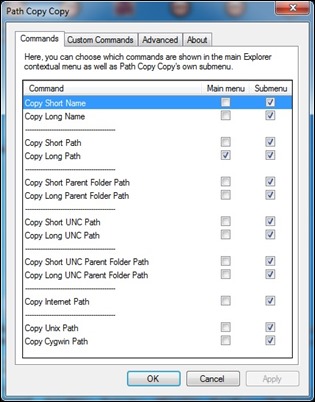 Also, if you need to add custom commands you can do that from tab Custom Commands, and for additional settings (Such as adding quotes to the way children) access tab Advanced.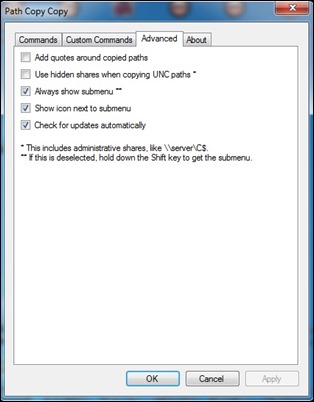 Note: App compatible with Windows XP, Windows Vista, Windows 7, and Windows 8 / 8.1
STEALTH SETTINGS - How to Quickly copy the path to the file / folder in Windows
How can quickly copy the path (path) to a file or folder in Windows