Windows 8 has some Feature Links Interesting that allows users to repair the operating system without having to go through all the steps necessary to earlier versions of Windows. Two of these sites feature with which you are probably already familiar, are refresh si ResetThe first one allows repair systemAnd the second representing virtually reinstalling it, both with just one click.
A third such feature that most users consider it as being the best recovery methodThis option to create a backup image. Unlike refreshThis option allows you to create an image that Windows 8 is configured with all applications, data si settings user wants it. Then, after creating the image, when user wants to make a system refreshIt will be automatic after backup image created.
How do we create a backup image? Windows 8?
open a Command Prompt cu Administrator privileges (Right click on Start Screen button to display All apps in the upper right corner of the screen, click on it, then select Command Prompt displayed list and click on the option Run as Administrator displayed at the bottom)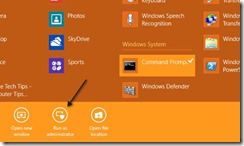 in cmd, Use commands below to create folder the backup image is stored, and to create the image itself (use commands in order!)
mkdir C: RefreshImage

recimg-CreateImage C: RefreshImage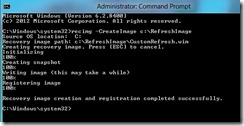 then wait for the image to be created (this will be made . Wim) And recorded (to be automatically used when you want to repair the system) waiting time can be from 10 minutes to 30Depending on how much data you have in the system.
To avoid losing image backup if a disk errorsWe recommend copying it to a external storage device. If uni hard drive failureThe image must be restored to the device folosid Windows Recovery Environment. If your HDD has no probloema, but signs of fatigue system, you can restore the system using option refresh (Will be automatically created backup image):
open menu Charms (right side of desktop), click on Settings then Change PC Settings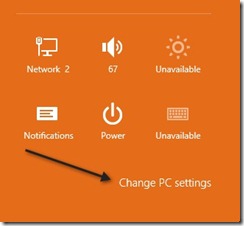 on the left side of the window open, click on General, Then click the button Get started under option Refresh Your PC without affecting your files.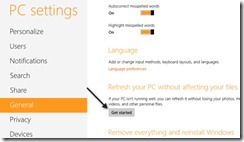 in the dialog displayed click on NextThen you will be notified as Windowshe is preparing to restore the system.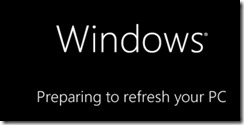 After the restoration is complete, all applications and settings contained in the backup image will be available in the system. Backup image may be renewed whenever you want using the above commands (last image created will be recorded as the image automatically used for system recovery).
STEALTH SETTINGS - How to create a Windows NEVER Backup Image
How to create a Backup Image for Windows 8