One of the biggest shortcomings of the new Start Screen in Windows 8 It is that it does not allow users to create their own custom tile sites to launch applications or open files. But as we already know, any shortcomings of Operating Systems Windows They can be covered by means of third-party applications.
One such application is the OblyTile, a free tool through which users can create tile sites whom we can associate programs or files, the latter can only be opened with a simple click on the respective links tile. In addition, users can choose which background want to tile sites, be it a custom color, Or image / photo.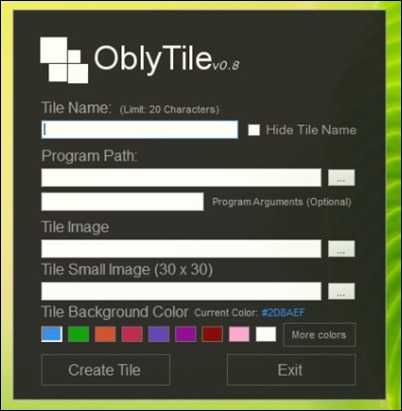 Create a tile again OblyTile is a very simple process, users only need to launch application (This not inexhaustible installation), To introduce name for tile si the program or file path I want to open it through this, to select image icon (120 x 120 si 30 x 30) and background colorAnd then to click on button Create Tile.
OblyTile is the only application for Windows 8 which allows creating custom tile sites for launching applications installed on your computerAnd certainly will be successful among fans of the new Start Screen.
Note: Application compatible with Windows 8 32-bit and 64-bit.
Credit @ XDA Developers
STEALTH SETTINGS - How to create custom tiles to launch programs from Windows NEVER Start Screen
How to create your own tiles to launch applications from Start Screen in Windows 8