In Windows 8, modern applications (Installed Windows Store) Could not be accessed from desktop (Ie the system does not allow creation shortcuts for those applications on the desktop), users must open The Start Screen to launch such an application. In Windows 8.1 However, modern applications could be fixed (pine) the taskbar for quicker access to, although not in this system was not possible to create shortcuts on the desktop.
With the launch Windows 10Microsoft made some significant changes in terms modern applicationsThey can now be launched from Start menu (Reintroduced in special system for PC users) and run in windowsDirectly on the desktop. Also, although modern applications do not offer options like Create a Shortcut or Sent to Desktop when right-click on them, users who want to create desktop shortcuts for modern applications favorite can do so without resorting to third-party programsFollowing the instructions below.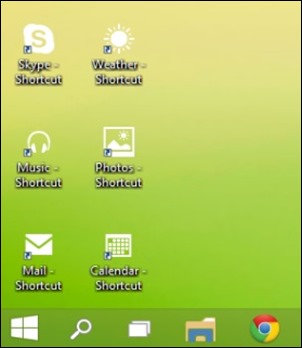 How to add shortcuts of modern desktop applications in Windows 10 Preview?
open Start Menu
then select a modern application si drag it to the desktop to create a shortcut its (repeat for all applications for which you want to create shortcuts on the desktop)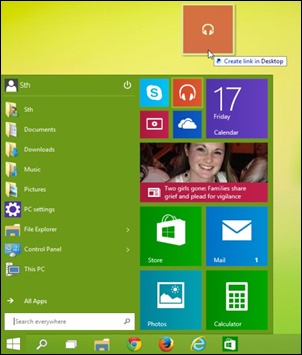 In case you do not want to create shortcuts for modern applications on desktop Windows 10 But to make this happen accidentally, you drag & drop off in Start Menu:
open Taskbar and Start Menu Properties (Right-click on an empty space on taskbar or Start Menu and select Properties menu displayed)
in tab Start Menu click on the button Customize
then, in dialogue Customize Start MenuUntick Enable context menus and dragging and dropping
Note: If you have activated the Start Screen's Windows 10 Preview to create shortcuts of modern applications on the desktop will first need to activate the Start menu (in the Taskbar and Start Menu Properties> Start Menu tab, check the option Use the Start the Start screen menu INSTEAD oF).
STEALTH SETTINGS - How to create desktop shortcuts for apps in Windows 10 modern Preview
How can we create shortcuts for modern applications on the Windows desktop 10 Preview