One of the reasons of dissatisfaction of users Windows 8 regarding The Start Screen is that by default the Start Screen can not be created shortcuts (tile sites) Than for applications, There was no option to fix (pine) And other file types it. For example, if you used to work daily with some documents, It's normal to want to be able to open them directly from the Start Screen. Fortunately this problem can be solved quite simply with a third-party applications, named Tile A File.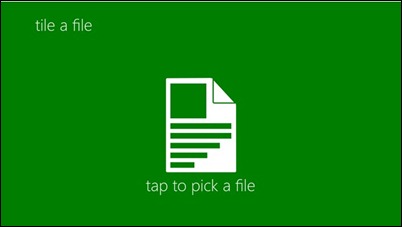 Tile A File is a freeware tool, Which enables users Windows 8 create tile's Start Screen for files that tend to use them consistently so that they can be opened quickly whenever needed. The application supports headset's shape square (Square) or rectangular (Wide), and allows the display of thumbnails for your files created in tile sites.
How to Use Tile A File?
application interface It is very simple to understand and use, the only way to interact with it being button tap to pick a file present in the center. Users can select any type of file, such as the video si audio, images, documents, rar archives or zip and so on Once selected the file, click on Open.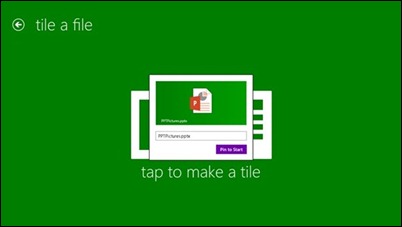 Tile A File and allows users to choose a custom name to set the tile before you set the Start Screen. They just need to click on tap to make a tile, To enter the desired name, and then to click on Pin to Start. After creating the application's tile will automatically closes.
Tile A File Download (via Windows Store).
STEALTH SETTINGS - How to create tiles for any file types in Windows 8 Start Screen
How can we create tile sites for any type of file in the Windows Start Screen 8