Perhaps the most important security feature available in OS Windows is System RestoreIt offers users the ability to restore the system to a previous working state (Without affecting personal files) If you start having problems with it (Malfunction, corruption of system files etc.). Although WindowsCPC Post Restore Point Links (Restore points) automatically when the system undergoes certain changes (eg installing applications, drivers or Critical updates system) are performed whenever manual changes in the system by users (Registry tweaks or customization requiring modification of system files), they are advised to manually create restore points system to avoid possible unpleasant consequences that could damage the system.
If you are using Windows 8 or Windows 8.1 and you are not familiar with System RestoreIf you want to create a restore point manual system for various reasons (most likely want to make a change in system files or want to install a program that will do this), you can do so by following the instructions below.
How to create a manual restore point for the system in Windows 8.1?
open Run (Windows + R) And type sysdm.cplThen give Enter (Or type system protected in Start Screen, select Settings on the right, then click on Create a restore point)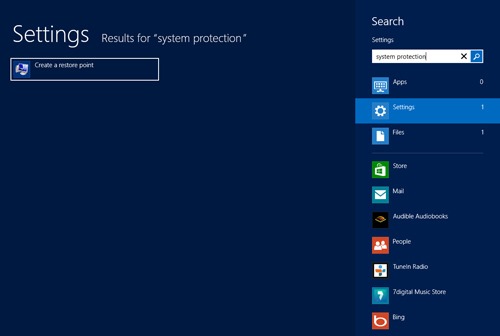 in System Properties click on the tab System Protection and check protection status for the system partition (the partition on which it is installed WindowsCPC); where it is off, Select the system partition and click on the Configure, Then select Turn on system protected and click on Apply > OK
to create a restore point manually, click on the Create, Enter description to the restore point that you want to create, then click again Create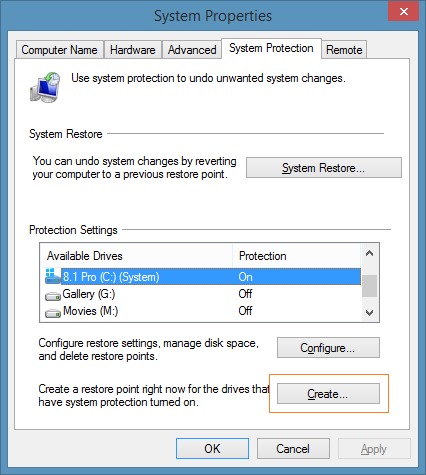 And ready. After the restore point is created, you will see a cofirmare message.

If at some point you'll want to return to a previous state of the system using a restore point available, open System Properties (type: sysdm.cpl in Run) And click on the button System Restore in tab System Protection.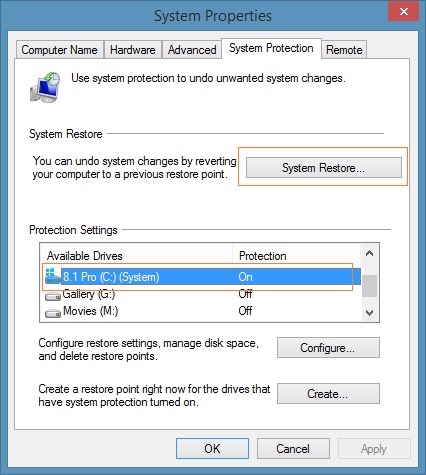 In the displayed window, click on Next, Check Show more restore points and select the restore point that you want to use (note that any programs or drivers installed after creation that restore point will be removed from the system, in addition, any program or driver has been removed from the creation of the selected restore point will also be restored; personal files will not be affected).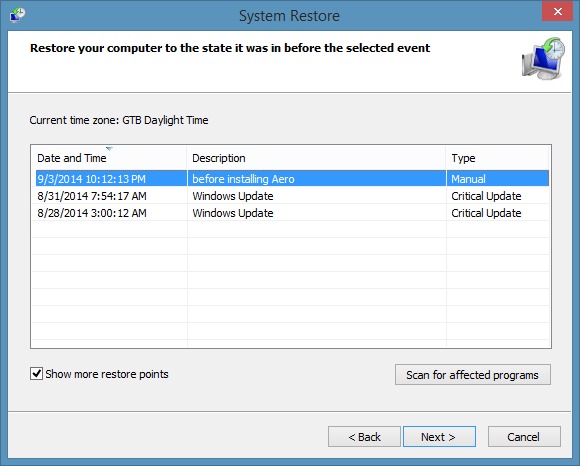 Then click again Next, Click on Finish and confirm that you want System Restore by clicking the Yes.

The system will restartand automatic to make restoration processAnd after it is completed, the message System Restore completed successfully will be displayed. Success!
STEALTH SETTINGS - How to create a restore point in Windows 8.1