If you are among users Windows who desktop full of iconsOr that are shortcuts of some applications frequently used, whether folders or files where you want to have quick access most probabail you ever find yourself in situations in which you need a clean desktop for various reasons (want to make a screenshot and do not want icons on the desktop to be visible, or they will distract you from work or tired eyes, etc.), but do not want to give up completely on those icons. For such cases, a solution would be to give right-click on desktopThen click on View and uncheck Show desktop icons (Later you can redisplay icons desktop checking back that option).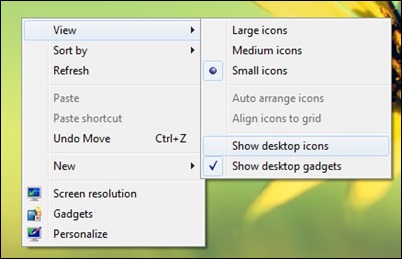 But much simpler and faster (if you happen often enough to want to hide desktop icons) would be to Create a shortcut to perform this action.
How to create a shortcut to hide (and redisplay) icons on the Desktop in Windows?
first you need a small utility si portable (No installation required), called HideDesktopIcons (This does not make changes in the system, but does the same as the default option Show desktop icons) that we recommend you save it in a different location Desktop, how to be sure that you will not accidentally delete (for example, you can to save / move in My Documents or Program Files)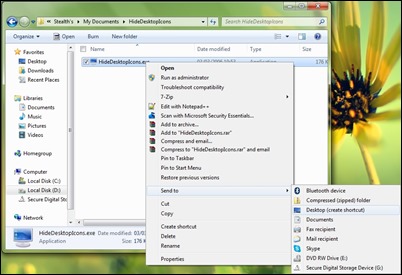 then create a Desktop shortcut the utility that you will fix (pine) in Start Menu/Start Screen or taskbar (After you remove shortcut on the Desktop)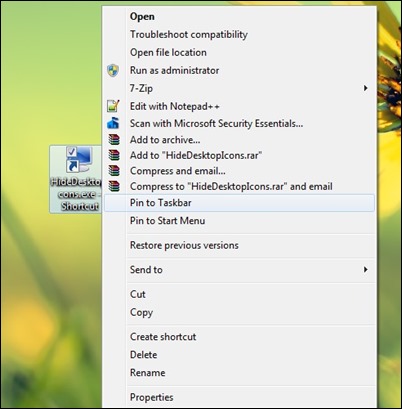 if you want to assign the application and a keyboard shortcuts (To hide and display icons on the desktop using a keyboard shortcut), Right click on shortcut HideDesktopIcons fixed in Start Menu / Screen or in Taskbar and select Properties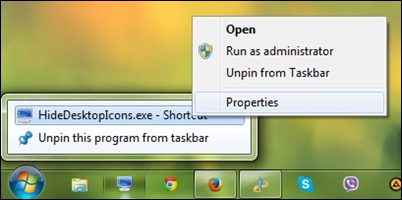 Then in tab shortcut, Type the key combination you want to use in the field of law Shortcut key (For example, you can use the combination Ctrl + Alt + D)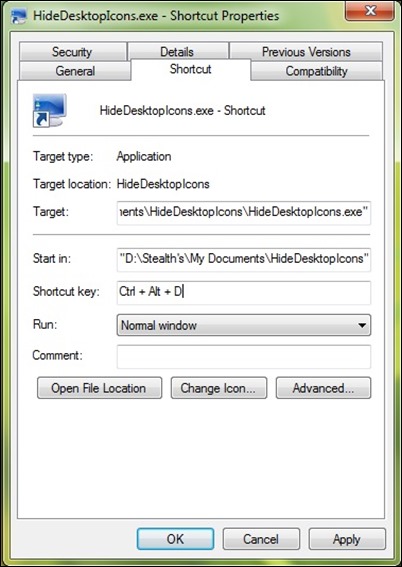 And ready. After you make the settings described above, you can use either shortcut set in Start Menu / Taskbaror key combination attributed it to hide and redisplay icons on your desktop luck!
Download HideDesktopIcons (Windows tool).
Note: If you can not run the utility HideDesktopIcons most likely need to install Microsoft Visual C ++ in sisitem, which you can download here.
STEALTH SETTINGS - How to create a shortcut to hide and display desktop icons in Windows
HOW CAN WE CREATE A SHORTCUT TO HIDE AND redisplay icons On the Windows desktop