Last year, when microsoft has launched Windows 8The biggest surprise was quitting Start button and Start menu, Which has displeased many users. Given the feedback received the software update Windows 8.1 Microsoft has reintroduced Start ButtonAlthough it opens now The Start Screen, Which replaced Start Menu in the new Windows.
Unfortunately, microsoft does not give users any ability to customize Start Button by preference, the only way to do this is appealing to third-party software.
Windows Start Button Changer 8.1 is a free utility which enables users Windows 8.1 to replace default Start button one custom. The application is easy to use and requires no installation, users not having to change file system to customize Start Button.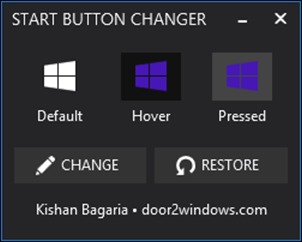 How to use Windows Start Button Changer 8.1?
run the application and click the button Change
click image to be displayed instead of the start button (it will be automatically resized by the application, so you should be aware of specific dimensions) and click on Open
to customize and keep the image displayed when the mouse cursor over the Start button (Hover image), Right click on the button Change and select Mask Change Image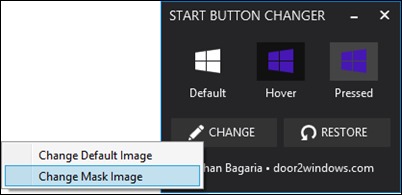 Windows Start Button Changer 8.1 will automatically restart Windows Explorer for changes made to take effect (chosen as the new image display Start Button). In addition, users can always Restore default image Start by clicking a button on the button Restore.
Download Windows Start Button Changer 8.1.
Note: To customize the Windows 7 Start button, use a previous version of the application, available here.
Credit @ door2windows
STEALTH SETTINGS - How to customize the Start Button in Windows 8.1
How can customize the Start Button in Windows 8.1