Many users Windows use VirtualBox to test various operating systems they have no adverse effects on system the host. Also VirtualBox offers them the possibility to work with multiple operating systems simultaneously on the same computer. To facilitate fluid communication between the host system and virtual system, VirtualBox includes some Feature Links, Disabled by default, such as shared folders and the opportunity to give copy / paste between the two systems.
How to activate Copy / Paste between a system installed in VirtualBox and host system?
While the feature of sharing between virtual system si host system can only be activated by installing Guest AdditionsActivation function Copy / Paste between the two systems is much simpler in settings virtual system VirtualBox:
First, make sure virtual system for which you want to activate the Copy / Paste not running (Turned off)
then, in VirtualBox Manager (List which displays all installed systems in VirtualBox) select system respectively and click the Settings (In toolbar)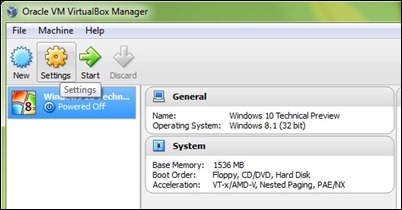 window Settings, under Generatesl, select tab Advanced, Then from the drop down menu displayed in the right Shared Clipboard, Select Bidirectional and click on OK
After you make this change, you can use copy / paste (only for text) Between the system VirtualBox and the host system, whenever needed.
Note: Another useful function that you can activate all of the virtual system settings, is the drag & drop, allowing rapid copying of files between the two systems (Bidirectional click on the drop-down menu displayed in the right Drag'n'Drop) .
STEALTH SETTINGS How to Enable Copy / Paste Between the system installed in VirtualBox and the host system
How we can Copy / Paste between a system installed in VirtualBox and host system