Sometimes we find ourselves in the situation (often related to work) where you have to send away (forward) By another person Multiple e-mails located in inbox our. Also, you may want to make backup of emails received sending them an address to another, different. But regardless of the reasons we have to give forward to those e-mails, sending them one by one can be quite frustrating, especially if their number is quite high.
While downloading of e-mails received and attaching them into a new message that we send to the recipient is a way to send multiple emails at the same timethe solution simplest is to send these e-mails from Outlook
open Outlook si select messages which you want to forward you the keys Inbox Ctrl si Shift for Multiple selection that Windows Explorer (Hold Ctrl and click on the posts you want to book, where the messages you want to send on are received consecutively, hold key Shift and press the first first post from the list, then click lastTo select the entire list)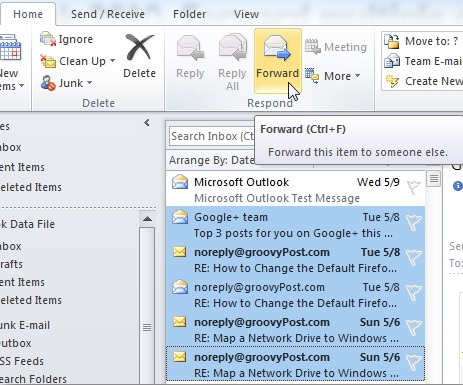 Then in tab Home, Click the button Forward (Section Respond)
un new email will be created automatically and the selected emails from your Inbox will be added as attachments for it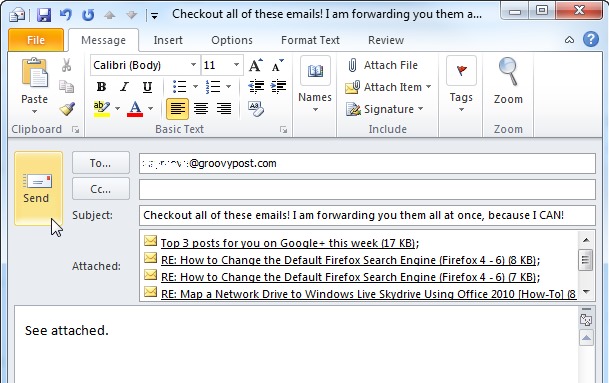 not only have to write mailing addressMessage to it and then pass Send
And ready. In this way, using Outlook, You can yes forward multiple messages simultaneously a single recipient.
Note: valid for 2007 Outlook, Outlook and Outlook 2010 2013.
STEALTH SETTINGS - How to forward multiple e-mails at once to a single recipient using Outlook