One of the feature sites Facebook where many users are grateful is the option to hide updates people in friends list from News Feed. This option is typically used when users do not want to receive updates from certain contacts, but do not want to give them Unfriend them (to hide the updates of Contact Facebook from News Feed click the down arrow displayed in the upper right corner of an update received from the contact, then select Unfollow from the menu). Most people Facebook but do not know how I can give unhide contacts whose updates they hid in News Feed (if later change their mind and want to get the new updates from them), and that's because Facebook hid it pretty good option (although the process of unhide of friends is quite simple).
How to view the new updates in News Feed Facebook contacts which I gave unfollow?
Please login to your personal account Facebook and, HomeMove your mouse over News Feed (under profile pictureIn the upper left corner)
then click on Settings icon displayed on the left side of the option and select News Feed Edit Settings
A window will appear, listing all the friends to whom you have given Unfollow; also be displayed in the same window and applications or pages you have hidden to stop receiving updates from them
to give unhide a contact (Or an application or page) from the list that you just need to click on xacquis displayed in his right, then click on the Save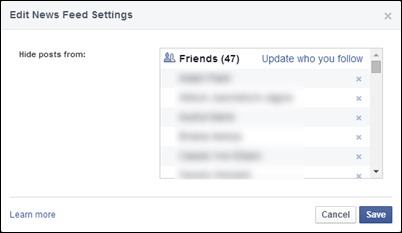 And ready. Following the instructions above, you can give unhide contacts whose updates you have Hidden from News Feed (Ie, you can get the new updates that contacts). Success!
STEALTH SETTINGS - How to unhide Facebook friends you've previously hidden from News Feed
How we can unhide the previously hidden contacts Facebook News Feed