When it comes to a reinstallation of WindowsWhich lowers our enthusiasm is not the actual installation OSbut reconfiguration its your preference and, especially, installation of all Security updatesWhich gather increasingly more every day and consuming precious time in certain circumstances (such as in cases where resettlement occurs after a System crash caused by a malicious or faulty hardware components - And have covered a deadlineOr when the operating system must be installed on computers several clients in a span of few hours).
Obviously, the best way to avoid both reinstalling the system, reconfigure it and install necessary applications, and the security updates is create an image backup of the operating systemOr by using utility Backup and Restore included in WindowsOr using an third-party application such as Acronis Backup. But if there is no backup image a Windowscommunity?
If installing the common software for Windows (Web-browsers, audio / video players, antivirus si antispyware, messaging, archivers and other utilities) Can be covered quickly online service ninite.com (I wrote about here), when it comes to updatesWhose download on Internet it may take at least a few hours (maybe even a whole day or more, if we refer to a poor internet connectionOr a band quite low), things get complicated a bit. Because, as they called our attention in a comment, downloading and installing updates Windows it takes longer than the actual reinstallation of the operating system.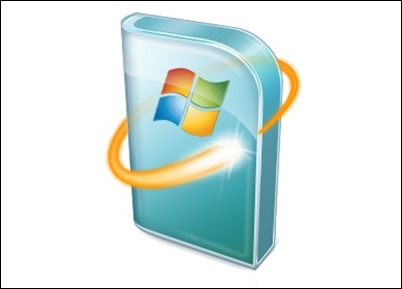 The solution would be download updates Windows on Microsoft website and then saving them on a external drive (hdd, USB stick or DVD), Which would allow users install them even without internet connection (offline) And would at least save download time, not insignificant.
For saving updates for Windows Users have two methods, one easy and relatively quick, which involves using a third-party utilities, And one not necessarily difficult, but time consuming (at least happen once, not after reinstallation ficare) involving manually download updates from the Microsoft website.
Download and save the updates Windows using Windows Updates Downloader (WUD)
Windows Updates Downloader is a free utility allowing users to download and to save updates Windows computer provided (which then can be transferred safely to an external device) for a Retrofitting thereof. The utility can be used to install updates for Windows 2000, Windows server 2003, Windows XP, Windows Vista, Windows 7, Windows 8, Microsoft Office 2003 si Microsoft Exchange 2003.
How to use wud?
after launch WUD, You will be notified not found any List of updates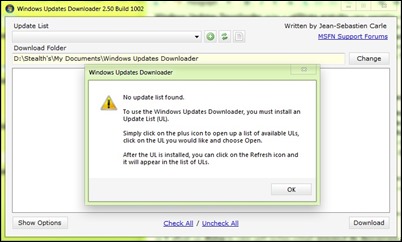 click on OK, Then click the button + in right field under Update List To navigate to page where you can Download files containing updates lists that must be downloaded (files are quite small and contain information about all the necessary updates operating systems and Office suites). They are displayed for each system separately, both versions 32-bit, And for those 64-bit.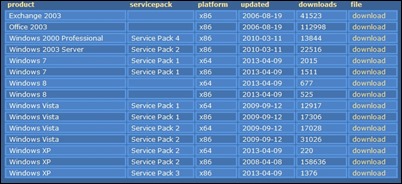 download list file updates for your operating system, then select the Open with Windows Updates Downloader (This option is the most probabail The selected in default mode) to load list WUD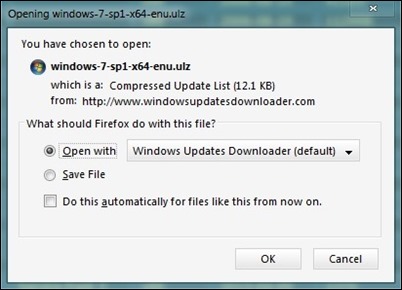 select which updates want to download the operating system (required for the security), Then click on the Download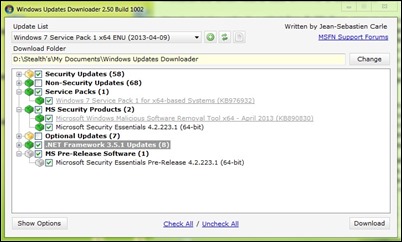 will be shown a Dialogue where you can watch the download the updates (it takes a few minutes to half an hour or more, depending on internet speed)

After downloading updates, you can choose to store either a external deviceOr write them on a DVD / USB stick. And when a system reinstallation is necessary, you can wud install updates to be downloaded to save time and bandwidth.
Download Windows Updates Downloader.
Download the updates Windows manual from the Microsoft site
If you prefer to do not use third-party applications, you can download the updates for the operating system Windows directly on site Microsoft. True, depending on the number of updates, the process can take some time, but most likely will not have to repeat it (if you care where rescued updates.
open Microsoft Update Catalog in Internet Explorer (Website does not work on other browsers), Then install add-on Microsoft Update Catalog (Installing will be required automatic by the browser) to use Online catalog updates
in the field Search displayed on the site, write OS and what updates you are looking for it (Security, Critical, Drivers etc.)
the list displayed click on the add next to each update you want to download it
After you have added all the updates you want to download, click on the link view basket under field Search
the page displayed, click on the Download the right number of updates selected (displayed on the right side of the page, above the list of updates)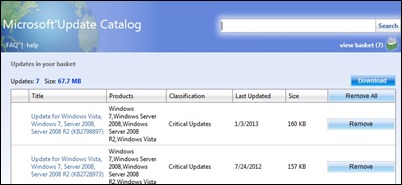 select folder where you want to save updates and click on Continue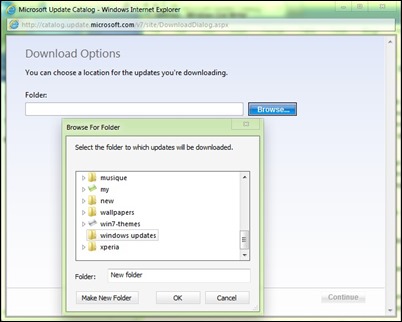 then wait until they (updates Windows) Will be downloaded to your computer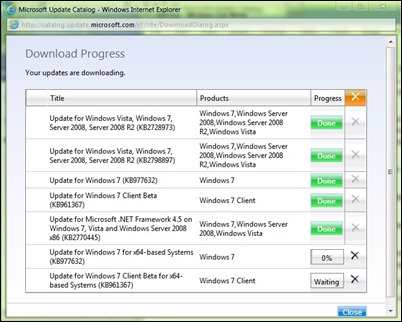 And that's it. This way you can download and save all the necessary updates for your system Windows, For then you can save time or to install offline after any resettlement scheme. Success!
STEALTH SETTINGS - How to Download and Save Windows Updates for later or offline installation
How we can download and save the updates Windows for later or offline installation