One of the easiest ways by which an computer it can be infected with viruses or other malware types It is in the USB devices. Also, some people using USB devices on the computer can copy data that normally would not have access. These two reasons mentioned above make USB devices represent a vulnerability serious and a real threat to computers security thereof. If you are concerned about computer security and privacy you (especially if you know that the personal computer or computer work have access to other people besides you), the simplest way you can reduce the risk of infections or a data theft it is to disable access to USB ports computer so that it can not read any USB device connected. If you are using Windows 8 or Windows 8.1You can disable USB ports PC following the instructions below.
How to disable access to USB ports of a running computer Windows 8.1?
open registry Editor (type: regedit in Run and give Enter)
navigate to key site HKEY_LOCAL_MACHINE \ SYSTEM \ CurrentControlSet \ Services \ USBSTOR
in the right pane, identify DWORD entry StartThen change the amount its in 4 (Right click the entry and select Modify)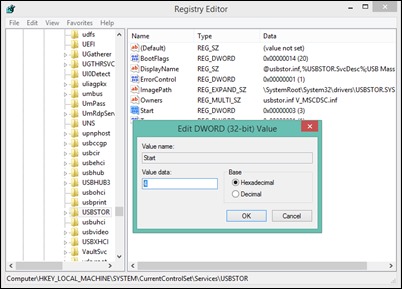 then close regedit si restart your computer
After restart you will notice that access to the computer's USB port has been blocked (No USB device can no longer be connected la system). If you later want to unlock access to USB ports again modified registry value Start back in 3 (Being default value of that section).
Note: Before making any changes in the system registry, make a backup of them or create a restore point for system to avoid possible unpleasant consequences (eg. Error in the operation of the system).
STEALTH SETTINGS - How to disable access to USB ports in Windows 8/8.1
How can we disable access to USB ports in Windows 8/8.1