One of the major changes brought about by OS Windows 8 was the introduction modern applicationsAvailable to users through Windows StoreThey are designed specifically for Microsoft to integrate the new GUI system. By default, all modern applications installed Windows Store are automatically updated, Whenever new versions are released to them. If you are using Windows 8 or Windows 8.1 and want to have control in terms Modern applications update (Maybe you want to make manual updates after the changelog click them), you can disable Automatic updating them by following the instructions below.
How to disable the automatic updating of modern applications in Windows 8 / 8.1?
open Windows StoreThen open menu Charms (Move your mouse to the bottom right corner of the screen or use the key combination Windows + C)
in Charms, Click on Settings, Then the option App Updates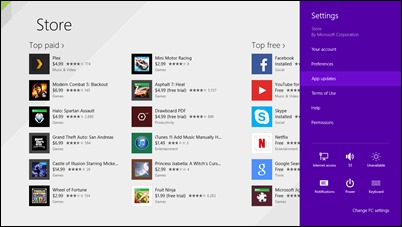 on the right you will see the option Automatically update my apps, Which is enabled by default; use this switch to disable it available as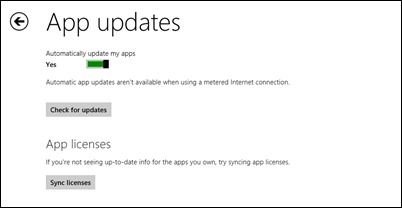 After you make this change every time you want to check that modern applications feature updates, all in App Updates click on the button Check for updates (Will be displayed list cu updates available, Where you can choose which applications you want to update). Success!
STEALTH SETTINGS - How to disable automatic updates for modern apps in Windows 8/8.1
How can we disable the automatic updating of modern applications in Windows 8/8.1