One of the easiest ways you can extend battery life a laptop running Windows 7 it is to disable the Aero Glass feature when disconnected from a laptop that continuous source of energy: right click on an empty spot on Desktop and select Personalize from the menu, then click on Windows Color and uncheck Transparency Enable.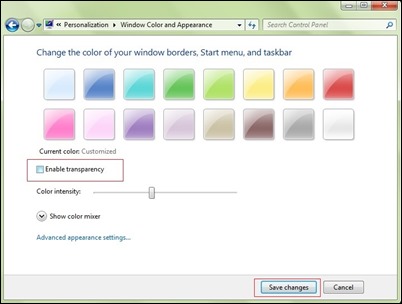 But so simple as if you set the system to automatically disable Aero Glass whenever the laptop starts to consume battery powerSo you no longer have to make that setting manual (Or probably most times you will remember to disable transparent system when already a large part of the battery will be consumed already).
How we set Windows 7 to automatically disable Aero Glass when we pass the laptop on the battery?
first condition is to set the Power Saver ca Active profile for Power Options (Click on battery icon from systray and select Power Saver if it is not already active)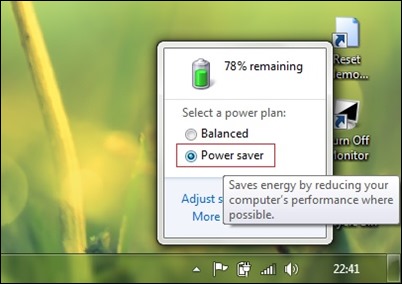 Unplug the charger from the laptop if it is not already connected (go laptop battery)
disable Aero transparency by the method described above (right-click Desktop > Personalize > Window Color > Uncheck Transparency EnableThen click on the Save changes)
then connect the laptop to a continuous source of power and open again Personalization > Window Color and check back option Transparency Enable (Do not forget to click on Save changes)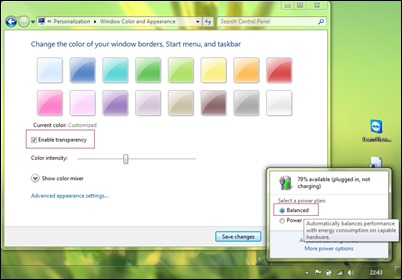 And ready. After you make these settings, whenever you move the laptop with Windows 7 pe batterySystem will automatically disable Aero Glass, Thereby increasing battery life laptop.
Note: If you move the laptop to another profile Power (Balanced or High Performance), it is possible that the method described above to stop working.
STEALTH SETTINGS - How to automatically disable Aero Glass in Windows NOT when switching laptop on battery
How can we automatically deactivate Aero Glass in Windows 7 when we pass the laptop on the battery