Among the novelties introduced by Microsoft products in the latest version Preview operating system Windows 10 lies and field Cortana SearchAvailable in left side Taskbaracquis (Immediately after the button Home). users Windows 10 You can use this Search Field to interact with the new personal assistant Powered by Microsoft (integrated in the system) and to perform such searches local (on hard drive computer) and online coursesThrough search engine Bing.

Although Search site from TaskbarCPC Windows 10 useful to users of this operating system, it is not necessary, and users with smaller monitors regarded as wasted space that field. In addition, Microsoft products It does not offer users the possibility (at least in version Windows 10 Preview) to change search engine default used Cortana. Fortunately, those who want to disable the Search field from TaskbarCPC Windows 10 They can do so quite simple, using one of the methods described below.
How to hide or disable the Cortana Search field from TaskbarCPC Windows 10?
if you want to disable Search from Taskbar everything, but you want to Search hide field when not in use, you can do this by right-clicking Taskbar and selecting Properties
then click on the tab Toolbars and select Show search icon From the drop-down menu in the right Search on the taskbar (Bottom of the dialog properties)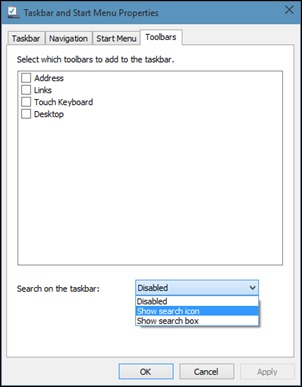 also to Search hide field from Taskbar and display only Search iconYou can right-click on TaskbarThen move to the Search> Show search icon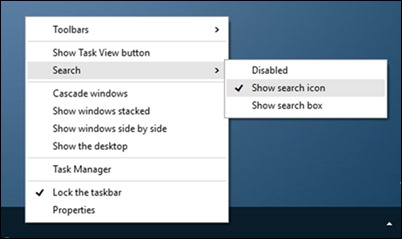 If you want to disable all site Search Cortana from TaskbarCPC Windows 10In tab Toolbars from Taskbar and Start Menu Properties select option Disabled in the right Search on the taskbar, or right-click on Taskbar and select directly Search> Disabled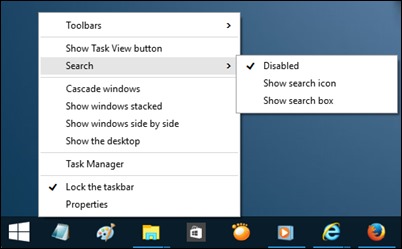 If you do not want to hide or to disable Search from TaskbarBut you want to disable the personal assistant Cortana, Click on the button menu displayed in the left corner (three horizontal lines), then select Settings and disable Cortana using switch displayed below Do You Want Cortana to work for you?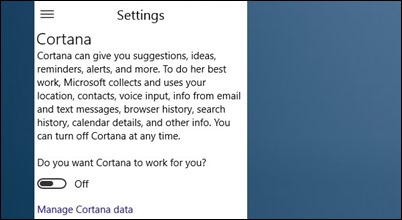 Being but a preview version of the system Windows 10Microsoft relies on feedback users to enhance their experience and to repair any system errors, So it is recommended not to disable the feature-ups (at least not permanently).
STEALTH SETTINGS - How to disable Cortana Search box from Windows 10 Taskbar