Many users Facebook I do not know that, with the creation Facebook profile is created by default and email Facebook, Whose username is the same name as the Your Profile (Ie name displayed in address bar when we access the Facebook account; example, if your Facebook profile address is https://www.facebook.com/user-name, Facebook is your email address user-name@ Facebook.com).
Initially there was a inbox Facebook account messages by e-mail Facebook, but later it was deactivated. Now all mails sent by email Facebook are redirected by Primary email address (Ie address you used to login Facebok account). If you wonder why lately you began to get increasingly more SPAM emails on your e-mail, a very plausible explanation is that the address is primary email address for your Facebook account. That's because e-mail Facebook are easy to guess (profile name Facebook are visible public), And also the number of those using email addresses of other users Facebook to register online for services is quite large and growing.
Fortunately there is a solution to avoid filling inbox primary address de unwanted spam mails, namely disable e-mail Facebook.
How to disable Facebook email address?
log in Your account Facebook and click on Home
then click on down arrow displayed in the upper-right corner of the page, and select Settings the menu.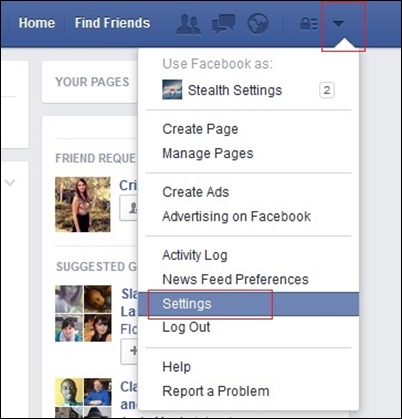 under General Account Settings, Click on the link Edit next Email

then uncheck Use your Facebook email and click on Save Changes
And that's it. After you make these changes in settings Facebook, Spam messages sent E-mail Facebook will not reach Primary email address.
Note: Please bear in mind that you will not receive any valid messages sent to your email address Facebook.
STEALTH SETTINGS - How to disable Facebook email account
How can deactivate Facebook account