Sometimes it happens that by mistake to move certain files a folder in another (or even to create more children thereof) with drag & drop. In such cases, if we are not aware of these Moving accidentalMost likely will lose some time trying to figure out where those files are gone, which is quite irritating especially when we really need them. Also, as it is irritating to find that some files in a folder appear in double, triple (and counting) copy.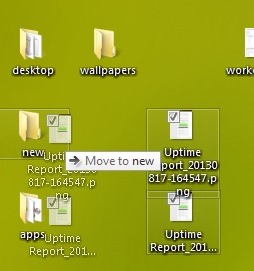 To prevent such accidents, the simplest solution is to decrease the drag & drop sensitivityWhich will result in a longer shooting distance to move a file location (Whether we want to move it to another folder, or as we change his position desktop).
In defaultin Windows 8 (Applies to Windows 7 or Windows Vista), The distance you have to drag a file to activate drag & drop is 4 pixels. To shrink sensivitatea drag & drop you will have to increase the distance for this operation from 4 pixels to 50 or even 100 pixels (depending on how often you approximate that you will use drag & drop from now on). Increasing the distance for drag to higher values ​​(for example 1000 or higher) can be interpreted as a disable drag & drop.
How can we increase the sensitivity for drag & drop in Windows?
open registry Editor (type: regedit in Run and give Enter) And navigate to the key HKEY_CURRENT_USER \ Control Panel \Desktop
in the right pane change the amount for entry DragHeight in 50 (or 100) Do the same for the entry DragWidth (Change them all in 50 value or 100)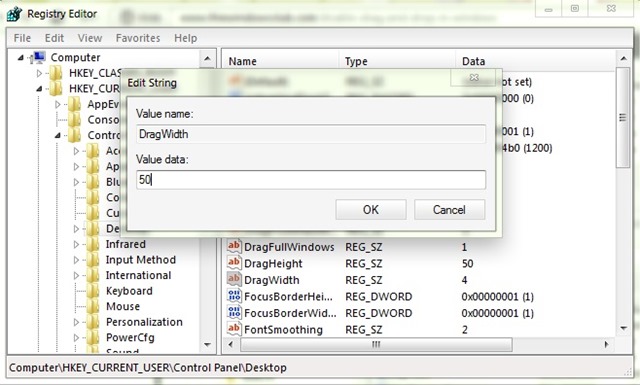 then close regedit si restartyou have the computer for the changes to take effect
Thus, if the Windowsul to recognize drag & drop operationYou have to move the items you mouse over a distance longer (by 50 100 or pixels, in function of values ​​chosen by you).
Note: It is recommended to create a restore point or a registry backup before making the above changes to ensure you will be able to return to the initial settings in case of errors.
STEALTH SETTINGS - How to disable drag & drop in Windows