Unlike versions Windows previous Task Manager from Windows 8 comes in a more improved with some more Feature Links si more advanced (detailed information about processes running, can disable and re-enable startup items the option to directly restart the process for Windows Explorer).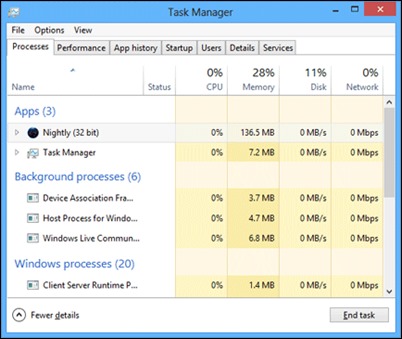 However, some users may be bothered by the fact that processes are grouped into categories (groups) According to type them (processes applications running, background processes si system processes), Which makes them slightly more impalpable when needed. Nor is displayed actual name of the processBut his name still something that hampers their identification (eg, Service Host instead of svhost.exe). The good news is that these small shortcomings can be remedied, as yet Task Manager in Windows 8 to be more user-friendly.
How to disable the display of processes in groups in Windows WHAT Task Manager?
open Task Manager (Right-click on Taskbar or use the key combination Ctrl+Shift+ Esc)
click on View at the top of the Task Manager and uncheck Group by Type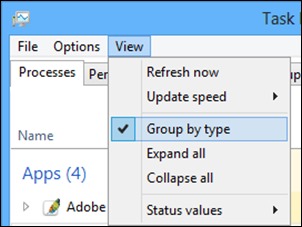 and ready to be displayed common processes, without being divided into groups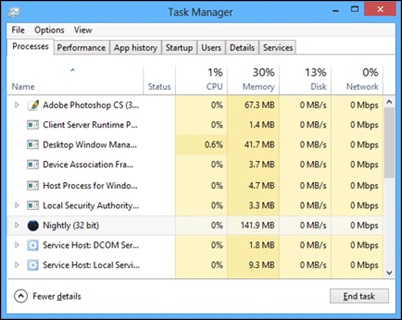 How can we display the actual names of the processes instead of their name in Windows WHAT Task Manager?
open Task Manager
in tab Processes right click on the section that contains Name, Status of Construction, CPU, Memory and so on and click Process name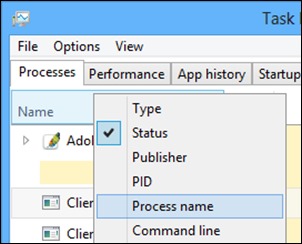 actual name of the process are displayed by name (label) them (instead of column Status of Construction)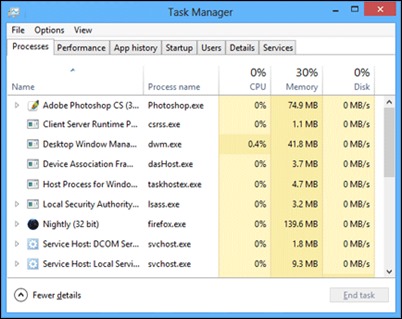 Note: You can revert the changes made in Task Manager.
STEALTH SETTINGS - How to disable process grouping feature and show file name of processes in Windows NEVER Task Manager
How we can disable the process grouping feature and display their file names in Windows NEVER Task Manager