Kaspersky Antivirus si Internet Security are some of the best software for security available Windows, Which protects millions of users from attacks viruses, Of Trojan and other malware types.
One of the conditions for effective protection of computers it is constant updating databases antivirusus, so Kaspersky be briefed on the latest malware types appeared. To fulfill this condition, Kaspersky automatically updates database each time a Update for it is available. But when the computer is not connected to Internet, Antivirus displays a message that warns the user that databases are obsolete (Databases are out of date).
If use Kaspersky Antivirus and it happens to not have internet computer several hours a day (for different reasons), probably often receive warnings about database status of antivirus software. If the constant display of that message will irritate you have the option to Disable notifications. Note that disable notification about their status in the database Automatic update does not affect them, further updates were made whenever the computer is connected to internet.
How to Disable Notifications Databases are out of date in Kaspersky?
open Kaspersky Antivirus (Double-click the antivirus icon in systray)
click on Settings icon located in the upper right corner of the program, then select the tab Advanced Settings clicking the icon in the form of box located in the left pane of the Settings window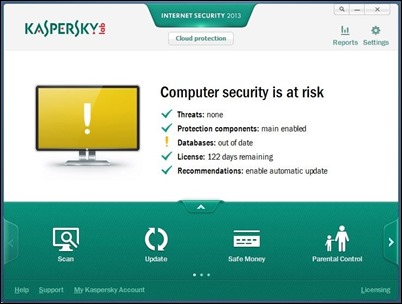 Also in the left pane select E-mail Notifications
in the right pane, click on the Settings under option Notify about the events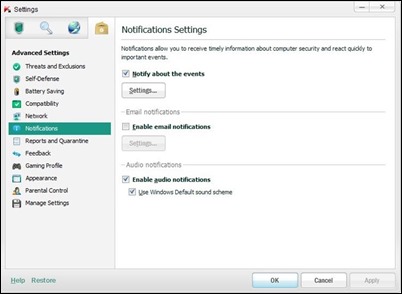 under Important Events, Uncheck the box under Screen (First of the 3 fisate) alongside Databases are out of date and click on OK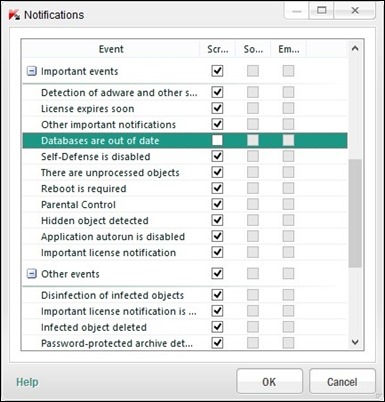 And ready. From now on Kaspersky will not display the warning message about health status bases, instead will continue to automatically update databases every time you connect your computer to the internet.
STEALTH SETTINGS - How to disable Databases are out of date notification for Kaspersky Antivirus
How can disable notifying Databases is out of date Kaspersky antivirus