Launched earlier this week (more precisely on December 1), the new version Mozilla Firefox comes with some interesting novelties, among which change default search engine from Google in Yahoo US users change the default search engine Google in Yandex Russia, Belarus and Kazakhstan, out of beta client chat Hello Firefox (Which allow for meaningful audio call si video Firefox browser directly between users) and the option to change browser theme using personas direct mode Customize.
Another novelty in Firefox 34 is new interface for Search toolbar browser, called One-Click Searches (This is available only for the English version of the browser), which displays not only suggestions for searches Specific, but also buttons other search engines than the default (Bing, Wikipedia , eBay, DuckDuckGo etc.) so that users can quickly choose which of those wishing to search engines.
Although the new interface Search toolbar Firefox for many users is a good change because search alternatives they offer (in previous versions users had to manually add more search engines in Search bar), most likely are enough and those who want to disable One-Click SearchesFor various reasons (such as that simply do not like the looks of it, or not considered necessary).
How to disable the new interface in Firefox Search bar 34?
open Firefox and type about: config in the address bar, then hit Enter and confirm by clicking on the I'll be Careful, I promise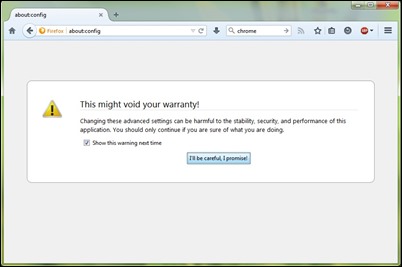 in the field of law Search enter oneoff to display entry browser.search.showOneOffButtons
double-click on that entry to change the value of true in false
And ready. After you make this change, Firefox browser will show again classic interface for Search bar instead the new interface One-Click Searches. Success!
STEALTH SETTINGS - How to disable One-Click Searches in Firefox 34
How can disable One-Click Searches in Firefox 34