In Windows 8, Microsoft quit Start Menu for Start ScreenIs the main workspace which "hosts" all applications installed system. Every time you install an application in Windows 8Instead occur shortcut on its Desktop, Creates a tile in Start Screen where application can be installed quickly launched. And also, as the application can be quickly and uninstalledAll of the Start Screen. Simply right click on the tile an application, then select Uninstall Menu displayed at the bottom of the screen.
If the split personal computer with other users and do not want them to have the opportunity to uninstall applications with modern user interface (metro) from the Start Screen system, follow the instructions below to disable the option Uninstall.
Uninstall option to disable the Start Screen of modern applications
open Group Policy Editor (open Run with the key combination Windows + RThen type gpedit.msc and give Enter)
in the left pane navigate to User Configuration> Administrative Templates> Start Menu and Taskbar
right side of the window, locate and double-click (or right-click> Properties) On the input Prevent users from uninstalling applications from the Start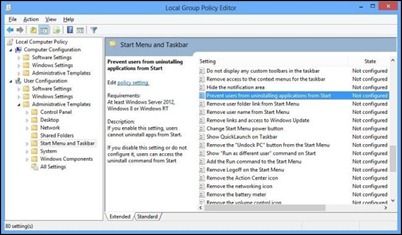 in window settings, select EnabledThen click on OK
And ready, after these changes, applications will not be removed from the Start Screen system.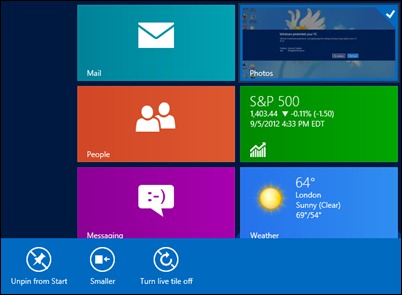 If you wish to reactivate modern applications Uninstall option from Start ScreenFollow the same steps described above, then the settings window option Prevent users from uninstalling applications from the Start select not Configured or Disabled.
STEALTH SETTINGS - How to disable the Uninstall option for modern UI apps from Windows NEVER Start Screen
How can we disable the option to uninstall applications with modern UI from Windows NEVER Start Screen