Twitter recently activated a new feature in microblogging network, namely photo tagging. Most Twitter users already know the role of this feature, already having enough experience with photo tagging from another popular social network, Facebook. More specifically, through this feature, users are able to identifies si ui tag various people in Pictures posted on Twitter (Possible to 10 tags in one picture).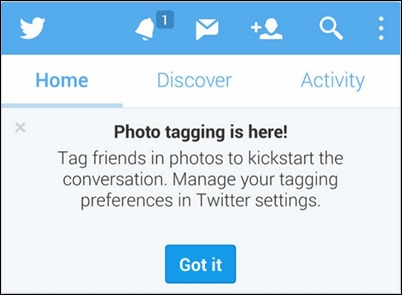 However, compared to Facebook, Where it is largely based on friend requests (closed groups of friends forming sharing information), the Twitter anyone can follow anyone, which means that a lot of users are not satisfied with the possibility of being identified by unidentified persons through tags of random pictures posted in the network.
If your worry and that privacy would be compromised by the new feature of photo tagging Available in Twitter, you can disable this feature by following the instructions below.
Users are offered 3 options regarding new feature for photo tagging available in Twitter:
Allow anyone to tag me in photos - Allows any user on Twitter to give you tag a photo posted
Only allow people I follow to tag me in phots - Allow only users that follow them on Twitter to tag uiasca in pictures
Do not allow anyone to tag me in photos - Does not allow any user on Twitter to give you tag in any photos posted in Network
These privacy options are available both website Twitter (version web site) And the mobile applications for Android si iOS. To manage / disable photo tagging via websiteVisit your Twitter account and go to Settings> Security and Privacy (Left column). Then scroll to the section Privacy Policy and select Do not allow anyone to tag me in photos (Or, if you prefer, select Only allow people I follow to tag me in photos).
For mobile applications on Android and iOS Twitter, follow the steps below:
iOS - Give tap the icon settingsThen on account name you; the display screen scrolling to the end list of options, And in Privacy Policy, Please tap on Photo Tagging; then disable the feature using switch displayed in his right (top of screen)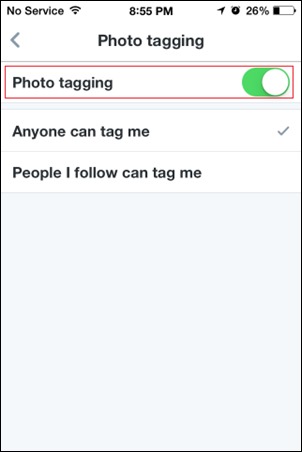 Android - Give tap the icon menu (Three points displayed vertically) from the top-right corner and select Settings; Then, the screen displayed, uncheck Who CAN tag me in photos
STEALTH SETTINGS - How to disable Photo Tagging feature in Twitter
How can we disable Photo Tagging in Twitter