Pop-ups information from Windows Explorer are those pop-ups that appear every time you keep the mouse cursor over a folder or file in a folder. In most cases users Windows ignore these pop-ups, considering that the information provided is quite brief and without any specific relevance (so default are displayed type of item, date it was created or modified and size it), but in certain situations, although they remain visible only for a few seconds, can become irritating if displayed over other items that you wish to access.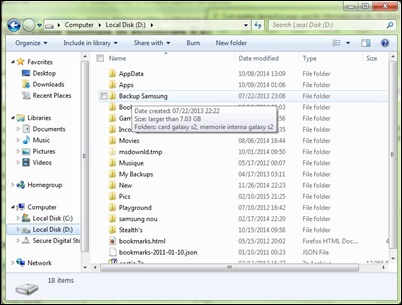 If you feel that you and informational pop-ups (tooltips) of Windows Explorer are useless, and prefer it to not be displayed, you can too disable using one of the methods below.
How to disable the tooltips in Windows Explorer?
1. Registry Editor
open Run, type regedit and give Enter
navigate to key site HKEY_CURRENT_USER \ Software \ Microsoft \Windows\ CurrentVersion \Explorer\ Advanced
on the right, under Advanced, Locate the DWORD entry ShowInfoTip and change its value in 0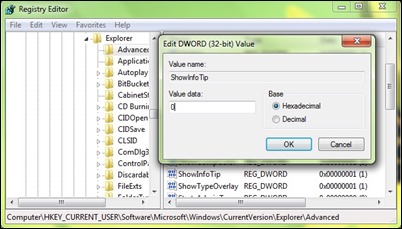 then give a restart his system explorerfor the change made to take effect
If you prefer not to do changes in the system registryYou can disable pop-ups in information Windows Explorer using the following method:
2. folder Options
open a Windows Explorer and click on Organize (or File)> Folder and search options
in tab View, under Advanced Settings, Identify and uncheck option Show pop-up description for folder and desktop items and click on OK
And that's it. Using one of the above methods, you disables informational pop-ups in Windows Explorer. Please bear in mind that these methods will not disable all pop-ups from the system.
Note: Before making any changes in the system registry, make a backup of them, or create a restore point (in case errors made by modifying the system).
STEALTH SETTINGS - How to disable info pop-ups in Windows Explorer