After a few days, Facebook activated a new way Display advertisements both web version and in applications for mobile platforms. Although this feature is still active for all users (and it will gradually DEPLOYMENT) is active your account if you've noticed that Videos posted contact in News Feed automatically runs (Without requiring your intervention).
Currently, the only video files which runs atoms Facebook are only those posted by friends, but soon this will be true for video ads. And although the sound the video is stopped when they run automatically (most likely to irritate users), this feature will only divert users and their incur (Especially true for those who use Facebook mobile applications on a mobile connection).
Fortunately, automatically run a video in Facebook can be disabledBoth version websiteAnd in mobile applications (For the latter, feature can not be disabled than mobile connection, The Wi-Fi videos will be run automatically below).
How to disable automatic running videclipurilor in Facebook?
For the web version of Facebook (Open in a browser pe PC), you can disable automatic running videos from News Feed following the instructions below:
Log on Your Facebook accountThen open Settings (Click the down arrow in the upper right corner of the page, near Privacy Shortcuts, And select Settings menu displayed)
then click on Videos, last option from the list on the left panel
in the right pane, change status option Auto-Play Videos from On (This is enabled by default), In off
For Facebook mobile application unfortunately there is only the option of disable the auto-play feature only mobile connections (3G si 4G), But at least you can avoid loading bills additional costs.
For Android
open application Facebook and give tap on menu icon (Three horizontal bars) displayed in the upper left corner
then scroll down and select Settings menu and select the option Auto-play videos on Wi-Fi only
For iOS:
open application Settings and select Facebook
then select Settings and check the option Auto-play videos on Wi-Fi only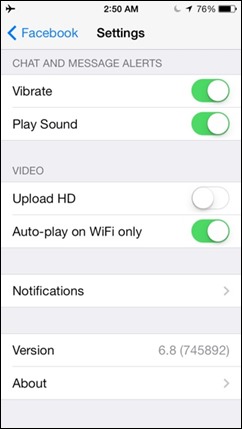 And that's it. By following these instructions you can off automatically run a video in Facebook (At least when using connection 3G / 4G for mobile applications).
STEALTH SETTINGS - How to disable auto-playing videos on Facebook
How can disable automatic submission of videos in Facebook