In Windows 8.1Microsoft introduced the option of boot to the Desktop, Without first display The Start Screen at system startup. In addition, the Start Screen came bundled with a range of options we both Customisation (Ability to set the picture on desktop ca background for Start Screen and a wider range of colors si backgrounds available customization), and for functionality (More sizes tile sites, more built-in applications feature CustomizeWithout tile sites that can not be rearranged or deleted from the Start Screen).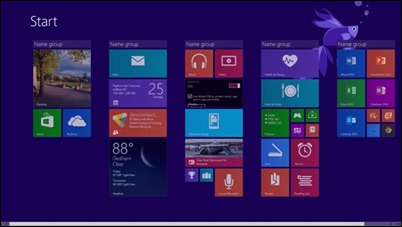 While some users who were already accustomed to the Start Screen's use of Windows 8Believes its improvements as welcome, there are plenty of users who prefer to disable the Start Screen and add (using third-party applications) Start menus similar to the Windows 7. If you are among those who prefer to use a Start Menu Start Screen's in place, but want to benefit from certain Links feature of Windows 8.1, you can disable Start Screen in Windows 8.1 Preview with the help Metro Killer.
Metro Killer is a free utility, Originally designed to disable the Start Screen in Windows 8But it works perfectly and updates Windows 8.1 Preview. With Kill users can disable Metro Start screen is not only but also Charms menu si App Switcher (Hot-corners).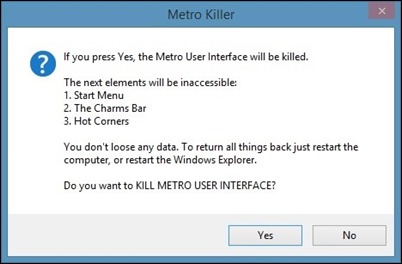 The interface is very simple, a simple click on the button And it is disabling the Start Screen, Charms bar, and App Switcher.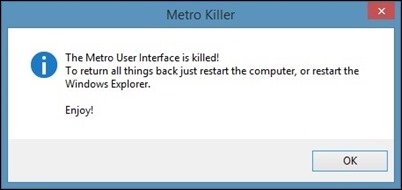 And the good news (or bad, depending on how you see things) regarding Metro Killer, is that changes will be made by application restored After a simple restart (Ie they will not be permanent, The Start Screen si hot-corners being turned back After restarting the system).
Note: The application is compatible with Windows and Windows 8 8.1 Preview (32 and 64 bit). Killer Metro also supports Windows RT.
STEALTH SETTINGS - How to disable the Start Screen in Windows 8.1 Preview
How can disable the Start Screen in Windows 8.1 site Preview