If you are using WindowsSurely you are familiar with the special key Windows (The name comes from logo Windows The printed) which can be used for fast access la Start Menu or Start Screen. Also used in combination with other KeyIt provides access to other Feature Links or programs the system. Among shortcuts on the keyboard including key WindowsThe most popular are Windows + R (Launch utility Run), Windows + E (Launches Windows Explorer), Windows + L (blocking system), Windows + D (displays desktopCPC), Windows + S or Windows + F (Launches Search tool), Windows + X (Displays menu Power or Win + X) or Windows + C (Displays menu Charms).
If for some reason you want to disable shortcuts including key Windows (Win + hotkeys), You can do this very simply by means Group Policy Editor.
open Group Policy Editor (type: gpedit.msc in Run and give Enter) And navigate to User Configuration> Administrative Templates> Windows Components> Windows Explorer (File Explorer for Windows 8)
in the right pane, identify and double-click the entry turn off Windows+ X hotkeys
Then, in the settings dialog box, select Enabled and click on OK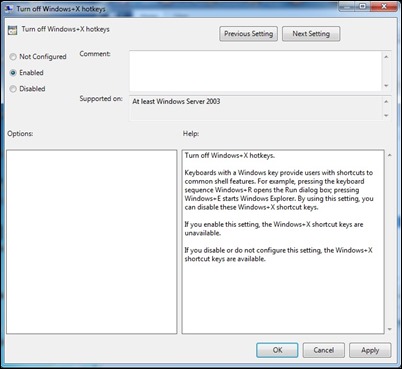 If you later want to reactivated shortcuts including key Windows, Follow the steps described above and enable Not configured or Disabled for entry turn off Windows+ X hotkeys. Success!
STEALTH SETTINGS - How to disable Windows+ shortcuts
How to disable all keyboard shortcuts that include the key Windows