If you are using KasperskyThis tutorial will help you save time by resettlement (or reset, in Windows 8) OS WindowsOr if you want to install Kaspersky pe another computer and want to use the same settings. The simplest is to export settings for Kaspersky Antivirus Before reinstalling the system, then, was to import back after installing antivirus the new system Windows.
How export / import settings for Kaspersky Antivirus?
open Kaspersky home screen (Double-click on antivirus icon in systray)
click on Settings icon located in the upper right corner of the main window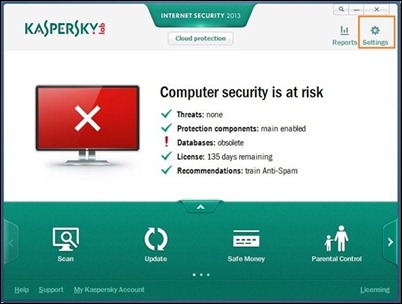 in window Settings, Click on icon Advanced Settings (Box-shaped icon)
in the left panel, click on Manage Settings (Last option in the list), then click the button Export to export antivirus settings (Carefully select the location where you save settings file to make sure that you will find when you need it!).
to import settings a new antivirus installed on your system, follow the steps above and then click on the button Import and select the file to save the export settings.
And ready. This way you will not lose my time reconfiguring antivirus after a new installation. Success!
STEALTH SETTINGS - How to export and import Kaspersky Antivirus Settings
How we can export and import settings for Kaspersky Antivirus