How many times have you happened to need some files that you can not find anywhere despite the fact that after a few days (or even hours) than they have given chance? But to know that they are corrupt when after long search finally you have discovered? Usually in such cases we find how important it is to save copies of all important filesPreferably on different storage devices.
But if luck is not with you and may you find no Backup CD, Or an unfortunate coincidence and files and copies are corrupt or missing copies of files completely, you still have a chance to solve the problem using Corrupt office2txt.
Corrupt office2txt is a application very necessary when suddenly you find yourself in situations where documents that work for some time or you need to soon become corrupted. Even if saving texts of these documents takes time and extra work, at least you will be able to recover data you thought was lost.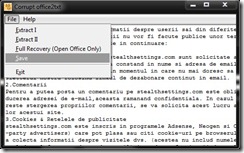 Corrupt office2txt can extract text from corrupt files Microsoft Office si Open Office 2.X si 3.XCovering a wide range of extensions, such as doc, xls, docx, ppt, xLSX, odt, PPTX, ods si ODP. Also, in some cases, its function may extend to templates or macros Extensions dot, xlt si pps. All texts extracted from Corrupt office2txt are saved in . Txt
Note: The application can be used to view the contents (text) files office when you do not have Microsoft Office installed on your computer or even Open Office.
STEALTH SETTINGS - TEXT RECOVER FROM MICROSOFT OFFICE FILES AND OPEN OFFICE Corrupt
How can we extract the text from Microsoft Office and Open Office files corrupted