Usually when buying a PC or a new laptop, it often comes with a OS preinstalledOr with a CD that can be found all drivers for hardware computer. Also, when you buy separate hardware components, which come bundled with appropriate drivers. If CDs are lost or system drivers we decided to install another operating system, can download the necessary drivers from sites Producers or we can use - at least in operating systems Windows - update service (Windows Update) to download and install them. But what do we do when we can not identify producers (manufacturers) for some hardware and the system lists these as Unknown Devices and update service is unable to find compatible drivers?
First, if you have suspicions that not all system hardware drivers you have installed, you can simply check this by two methods
The first would be to type msinfo32 in Run or Search site from Start Menu and to give Enter. Then click on the plus (+) In front ComponentsThen on Problem Devices. If you have hardware unidentified IDs these will be displayed in the right pane.
The second would be to right click on Computer> ManageThen SELCT Device Manager (Or type device manager in Run or Search site from Start Menu and to give Enter). Unidentified hardware or no compatible drivers were found by the update service will be displayed as Unknown Device (s) or will have a yellow sign in front. To identify their IDs right click on it and select Properties, Then click on the tab Details and select Device Instance ID drop-down menu.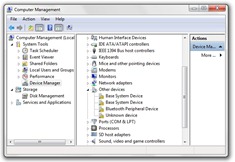 are displayed in two ID codes are Vendor ID si Device IDCodes with which you can identify compatible drivers with such hardware. Vendor ID is composed of 4 digit code (in some cases and letters) found after PCIVEN_ (Eg 1180) and the Device ID is the code located after PCIVEN_ [VendorID]& DEV_ (Eg 0843).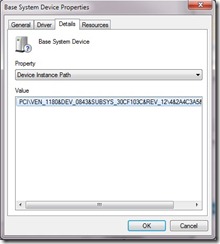 After you identify Vendor Id si Device IDWe identify the manufacturer (or manufacturers) hardware site going PCI Database, http://www.pcidatabase.com/Then we can search the Internet compatible drivers for them.
Success!
Note: It is possible that this method does not yield results every time. If you find yourself in such a situation, give a search on the internet directly with the hardware ID problems.
STEALTH SETTINGS- How to find drivers for Unknown Devices in Windows
How can we find drivers for Unknown Devices in Windows