Whatever the reason (most likely a Resettlement System) May be advantage users to generate a list of installed programs at some point OS used. This way you can check anytime if they were installed other than those commonly used programs, whether they were uninstalled programs by other users or programs if more needs to be installed in case of a reinstallation of Windows.
How you can quickly create a list of programs installed on a server?
first you have to open a Command Prompt as an Administrator (In Vista si Windows 7 enter cmd in Search site from Start MenuThen right-click cmd.exe and select Run as administrator, In XP click on the button Start> AccessoriesThen right click on Command Prompt and select Run as ... In the open window select Administrator in the right user namethen enter your password for this account)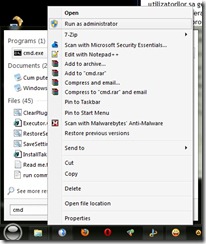 type the command WMIC in Command Prompt and hit Enter (WMIC = Windows Management Instrumentation Command-line)

type the following command line and give Enter
/ Output: C:nume_lista.txt get product name, version

(output It can be changed depending on the partition you want to generate the list, for example D: or E: etc., and nume_lista is the name that you want to pass it generated)

wait until you will be displayed again among WMIC: rootcli>Then type exit, Give Enter and close the Command Prompt
then check partition selected as the output (In this case C :) and you will notice, as . Txt, list of programs generated by cmd.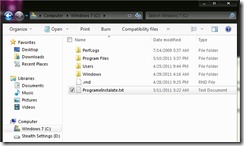 open the. txt to check the list of programs installed on your system when generating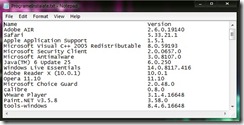 Note: In the list of installed programs generated are displayed default with Windows.
STEALTH SETTINGS - How to generated the list of installed programs in Windows OS
How can we generate a list of programs installed on a Windows operating system