It often happens is to receive files unknown extension (In emails, especially) or to somehow (accidentally of course) to delete or modify extensions of files stored in the computer, which leads to the impossibility of opening those files. If you are in such a situation where you can not open certain files because size unknown, there is a method simple with which you can identify what extension have these files (or what type of files are).
TrIDNet is a application simple and free to help users identify what extensions au unknown files from binary signature thereof. The application has flexible rules and can be "trainer" to quickly recognize and automatic new formats of files.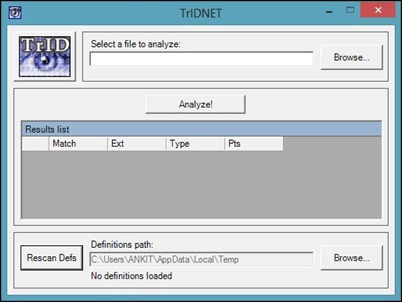 TrIDNet is very simple to use. Users need to click on Browse to select unknown file they want to identify him, then to click on Review!. The application will display a series of informationConsisting in definition file name, the author's name that created the file and e-mail it (if available in binary signature) links by Reference URLs and comments about the file.
The application uses a database expendTo which are added ever new definitions describing repetitive patterns the types of files supported.
Users who want to install TrIDNet can use a online version the application (Which basically does the same thing).

The only difference is that the online version is recommended for smaller files to large files is recommended the installation TrIDNet (those familiar with command lines/Command Prompt I can use CLI version the application, TRIDEMWithout interface gRafic).
Download tri (no GUI) - http://goo.gl/aJVb
Note: The application is compatible with Windows XP, Windows Vista, Windows and Windows 7 8.
STEALTH SETTINGS - How to identify unknown file type without extensions in Windows
How can we identify unknown files without an extension in Windows