Empty folders (Which do not contain any file) Will always be found on Windows operating systems (And not only). It is inevitable. I ordered however and as often as I arrange and rearrange data stored on the HDD(S) at some point or we press a New Folder in error, or we delete various files without the folder and check if it has content the same fate, or we create new folders the specific purposes for then to abandon tasks or just forget about those folders or purposes, or we uninstall an application that is no longer useful but leave some memories by system folders (Mostly empty folders are created so) etc.. The fact is that most times the number of empty folders (which contain no file) gets to be quite impressive, which makes identifying and deleting them one by one and manually difficult and tedious task.
Empty Folder Remover is a free application that helps Windows to remove all empty folders in the system at a time (time after which they will begin to gather again: D).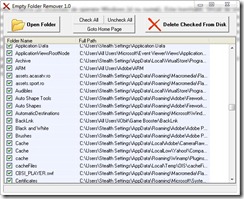 The application scans source folders (Which can be selected by the user) and identify all folders / directories empty of them, then get rid of them with a single click (all empty folders are selected by default).
Download Empty Folder Remover v1.0.
Note: The application is compatible with all versions of Windows XP, Windows Vista si Windows 7.
STEALTH SETTNGS - HOW TO DELETE ALL EMPTY folders in Windows
How can we identify and delete all empty folders in Windows