If you are using iPhone or iPadThe easiest way to copy / import the pictures made with iOS device on a computer cu Windows 8/8.1 (And beyond) is through program iTunes. In some cases however, such as when you want to Import photos on iPhone a friend or a family member most likely do not want to install iTunes just copy those photos. Fortunately, the application Photos from Windows 8 si Windows 8.1 allows you to import photos so on iOS deviceAs well as on any other type of smartphone (Android, Windows Phone Number etc.) with just a few clicks of the mouse.
How to import photos from an iOS device into Windows 8.1 using Photos application?
online iPhone or iPad computer with Windows 8.1
First recognition wait iOS carriage by computer, then click notifying displayed in the upper-right corner of the display

the options displayed, select Import photos and videos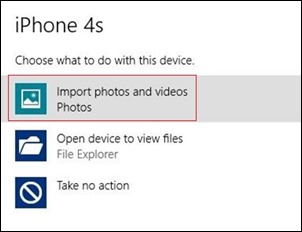 then select the photos and videos you want to copy to your computer and click the button Import displayed in the lower-right corner of the application's Photos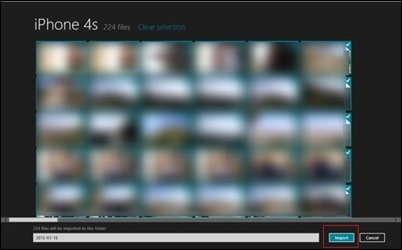 when the photos selected for import will be copied to the computer (they will be located in the folder default Pictures) Will display Done!

If when you connect iOS device la computer cu Windows 8/8.1 not displayed notifying recognition mobile deviceMost likely you off the toast notification feature in the system. To import photos from your iOS device, follow the instructions below:
open Start Screen and click on the tile Photos to run the application
then right click anywhere in the application Photos option to display Import bottom right corner
click on Import to view all connected devices the computer, and select iOS device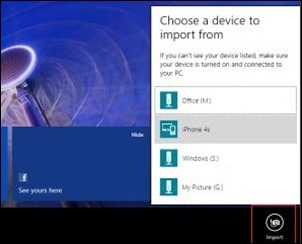 then select the photos you want to copy to your computer and click the button Import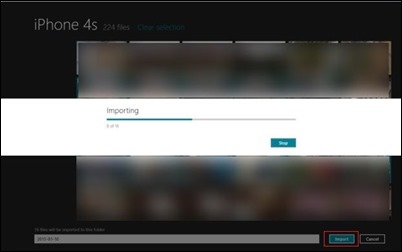 And ready. Following one of the methods described above, you import / copy photos on a iOS device (Or any other smartphone) On a computer Windows 8 or Windows 8.1Using modern application Photos.
STEALTH SETTINGS - How to import photos from iPhone to Windows 8.1
How can we import photos from iPhone into Windows 8.1