Some time ago (after the first release of Android Ice Cream Sandwich), Adobe has decided to discontinue Flash Player's development for AndroidWhich means that it is not available for newer versions of it, such as Jelly Bean, And will not be available nor Key Lime Pie. This however led to the inability Android users to view content that uses FlashSuch as some videos or Online Games, And even some websites.
For users who want to know how I may be install Flash player in Android and to view Flash content with it, following instructions explain where so it can be downloaded (since it is no longer available dowload in Google Play) And which applications are required to view content that uses Flash player (Most browsers for Android not supporting Flash plugin).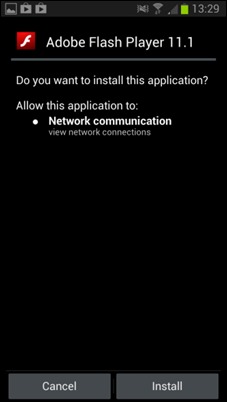 How do I install the Flash palyer with Android devices?
Official sources where we Download Flash player for Android is Adobe websiteWhere they are kept in archive all earlier versions of Flash, Including Versions for Android (Select its newest version for download).
Prior to Install Flash player on Android, Make sure that you have activated installation from unknown sources (Settings > Security > Unknown Sources).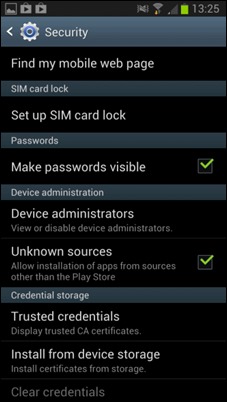 How to use Flash Player on Android devices?
After installing Flash player Android device, install and a browser which still provides Support for Flash plugin. One of these is the Firefox browserWhich can be downloaded from Play Store. This activate Flash plugin automatically after installationBut you can change settings according to your preferences by pressing menu button when Firefox is active, then selecting Settings > Plugins.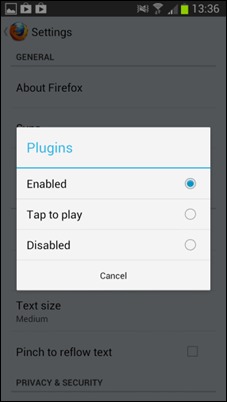 Download Flash Player for Android.
Download Firefox for Android (via Google Play).
Note: Some Flash content sites may identify the Android device user's agent to prevent content from being displayed. You can solve this problem by installing Phony extension for Firefox, allowing users to modify the user agent to prevent the use of Flash Player from being restricted.
STEALTH SETTINGS - How to install and use Flash Player on Android devices
How can install and use Flash Player on an Android device