edition Enterprise a Windows 8 / 8.1, microsoft included a feature Interestingly, namely Windows To Go, which allows installing the OS on a USB Drive, Which can then be used to access a computer (No run system installed on that computer).
If you are (still) User Windows 7 and you want to be able to install and run this system on a USB DriveYou can do this using a Free third-party applications, named WinToUSB.
application WinToUSB allows users to install and run a Windows on a USB Drive (I recommend using a USB Drive de at least 16 GB). Interface application, in style WizzardIt is very simple to use and easy to understand by any category of users, they can install the OS on USB stick with just a few clicks of the mouse and without having to alter the installation files thereof.
The application also WinToUSB supports installing and running Windows OS on an external hard driveNot only USB sticks (In addition, it is not necessary installing WAIK to use this application).
How do I install Windows 7 on a USB Stick (or external hard drive)?
For install Windows 7 on a USB Stick or External Hard Drive you just need media device you want to install the system and ISO image installation of the system Windows 7.
After installing WinToUSB, Run the application and navigate to ISO image installation a OS and select it, then click on the Next.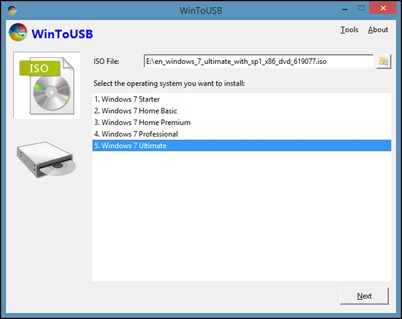 Installing the system takes between 30 minutes si one hour, according to speed media device of hardware configuration system and System Edition (To install a Windows operating system on a USB Drive with WinToUSB, you must use an administrator account on the computer used Installation).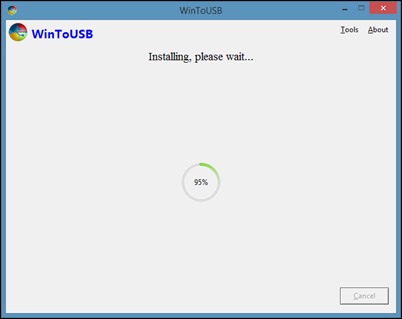 After 7 Windows installation on USB Stick (or external hard drive) To run on this system, change the boot order in the BIOS of your computer. Note the fact that system installed on USB Drive it is possible to not run correctly on other PCs (It may necessitate drivers to work).
Note: Application compatible with Windows Vista, Windows 7, Windows 8 / 8.1 2008 and Windows Server R2.
STEALTH SETTINGS - How to install and run Windows on a USB Drive 7
How can install and run Windows 7 from a USB Drive