microsoft released earlier this month version Technical Preview future operating system Windows 10. Being a betaIt is most likely unstable and may contain various system bugsAnd therefore does not recommend installing the primary system. Safest method to test a beta version of a operating system is through a virtualization software (VirtualBox), But this method has several drawbacks (for example, VirtualBox users can not install the new Update released today for 10 Windows Technical Preview). Another way to test Windows 10 Technical Preview and full experience updates included in this release by Microsoft is installing in dual-boot with another Windows system that you will still use the main system (to minimize the risk of loss or corruption of data stored in computer In the event of any errors).
How to install Windows 10 Technical Preview in dual boot another Windows system?
First you have to Create a separate partition you install Windows 10 Technical Preview:
open disk Management (type: diskmgmt.msc in Run and give Enter), Then right click on the partition C: \ (Or another partition that will allow to shrink) And select Shrink Volume menu displayed
system requirements for Windows 10 are the same as for Windows 8, Which means that Windows 10 require 16 GB minimum space-bar the version 32-bit (or 20 GB the version 64-bit); in dialogue Shrink Volume enter in MB the space you want to allocate Windows 10 (recommended would be to choose something more space than the statutory requirement of the system) and then click on the Shrink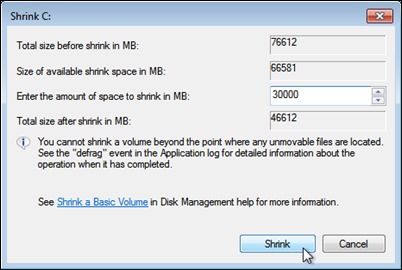 After which the miscorare the selected partition is completed, follow the instructions below to Install Windows 10 Technical Preview in dual-boot another Windows:
download ISO image installation Windows 10 Technical Preview and write it on a DVD or create a Bootable USB Drive with it (you can use the utility 7 Windows USB / DVD Download Tool)
Insert the DVD that you wrote ISO image of Windows 10 into the optical drive of your computer (or connect Bootable USB Drive thereof), and restart your computer and wait to load setup files
Select the language and keyboard layout you want, then click on install Now
I accept the terms imposed by Microsoft, then select Custom: Install Windows only (advanced)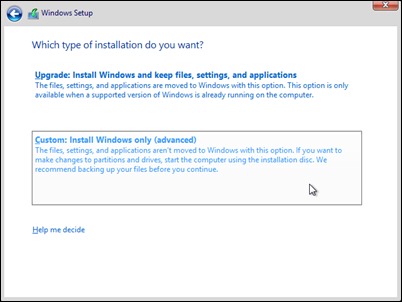 Create a new partition from unallocated space (The space that you previously extracted from an existing partition) by clicking on it and then click the option New and on Apply (By default will be allocated all available space)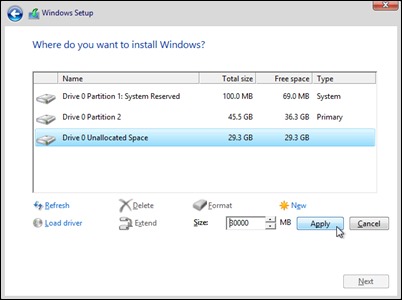 then click on Next to begin Install Windows 10 Technical Preview the newly created partition (the process will follow the normal steps to install a Windows system)
After Install Windows 10 Technical Preview in dual-boot another Windows, Whenever you start your computer you will be asked to select the system you want to boot. If the time for selecting a system expires, the computer will boot the system set primary system (By default, the second operating system in dual-boot will be set as a principal in this case are 10 Windows Technical Preview). To set the system other Windows main screen is displayed when Choose An Operating System, Click on the link Change defaults or choose other options.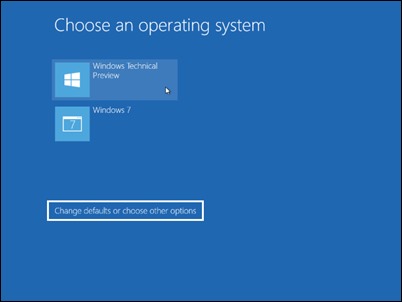 Then click on the option Choose the default operating system to set other Windows installed on the computer as a principal (in this way you will reduce the risk of losing important date in the event of errors caused by Windows 10 Technical Preview).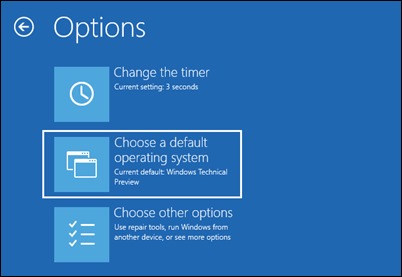 Note: As this two systems installed in dual-boot Windows, you boot into one system you can still access the other partition is installed on the system. Before installing Windows 10 Technical Preview in dual-boot another Windows system, make a backup of important data stored on your hard drive (just in case).
STEALTH SETTINGS - How to install Windows 10 Technical Preview in dual-boot with Windows OS Another
How can install Windows 10 Technical Preview in dual-boot with Windows or Windows 7 8