When he was released, Windows 8.1 was made available as free update for users Windows 8, They can install that update through Windows Store. For reasons understood only microsoft However, if users want to perform a clean installation of Windows 8.1 (Using ISO image installation), They really need to use a license code for Windows 8.1Because codes valid license Windows 8 will not be accepted.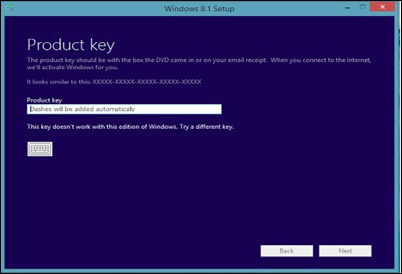 How after launch 8.1 Windows Update microsoft announced that starting May this year will end support for Windows 8.1Most likely users Windows 8 will be able to direct upgrade la 8.1 Windows Update (In the case of reinstall the system, Or purchase a computer with Windows preinstalled 8 etc.). But if you have at hand a license code for Windows 8 and you, for various reasons, to make a installation 8.1 clean Windows system (suppose you want to have certain Feature Links included in it that are not found in the Windows 8, but do not want, at least momentarily, to install Windows Update 8.1), follow the steps described in this article to download setup files (ISO image) For Windows 8.1 and install the system using the license code for Windows 8.
In case of do not already have a Windows installation ISO image 8.1 (Or A USB bootable Windows 8.1), you can Download Image that (or create bootable USB Drive) using license code for Windows 8 using the instructions below.
visitUpgrade Windows with only the product key, And click the button Install Windows 8. Then run the tool for download and enter license code for Windows 8; After it start the download, close the tool respectively
then go back on Upgrade Windows with only the product key and click on Install Windows 8.1; The setup tool will not require a license codeBut will begin to download installation files for Windows 8.1 direct
If you want to create a USB bootable or ISO image of the systemAfter downloading the installation files Windows 8.1, Select Install by Creating Media
After creating the USB drive bootable (Or video ISO), You will notice that if you try to install Windows 8.1 license code for Windows 8 will display a error message. To solve the problem, open installation files on USB Drive using Windows Explorer (In the case of ISOsIt must be modified before being written to the DVD) And folder access sources. Inside this folder, create a file called ei.cfg.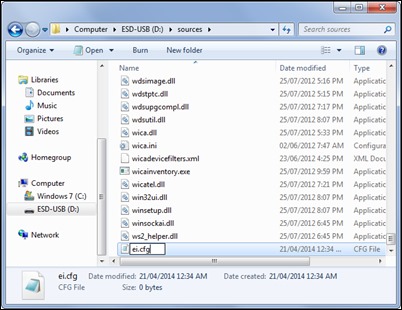 Then open the file created in Notepad (Or another program text editing), Copy the lines below it and save the changes.
[EditionID] Core
[Channel] Retail
[VL] 0
If the license code is for an edition Windows 8 PreofessionalIn the above text, replace core cu Professional.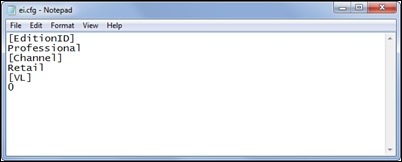 And that's it. After you make these changes, You can Install Windows 8.1 without any problem (you will not be prompted to enter license code during Installation process). After the system is instalalt, you can enter license code for Windows 8 and the system will accept as compatible. Success!
STEALTH SETTINGS - How to install Windows 8.1 8 using a Windows product key
How can install Windows 8.1 using a license code for Windows 8