Windows 8.1 is basically a update for Windows 8 operating systemsSo that all users Windows 8 can upgrade to Windows 8.1 free, via Windows Store. Users of other versions of Windows (Windows XP, Windows Vista si Windows 7) Will need to purchase a Windows license 8.1 to install and use this system.
Users Windows 8 thought that, given that Windows 8.1 is an update for this operating system, 8 license codes for Windows should work for Windows 8.1. And while this would have been justified, unfortunately, when using a Windows license code 8 a clean installation of Windows 8.1 (Installation with ISO files) Is displayed error message that atentioneza users license that code is incorrect or invalid.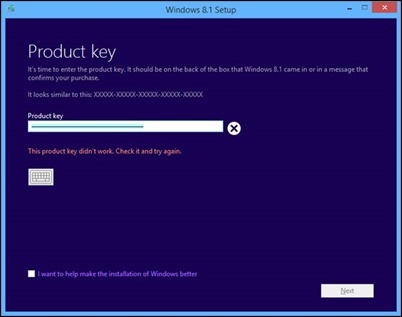 Although the exact reason is unknown, it appears that microsoft intentionally did this to force Windows users to make 8 Free upgrade via Windows Store (Why did not Available Installation ISO images of Windows 8.1 only to users who buy a Windows license 8.1).
However, there is a method by which users can use Windows 8 license code to install and activate Windows 8.1Which, although not supported by Microsoft, is still approved. The method consists in the use of Windows 8.1 general license code to install the systemAfter which users can use 8 Windows license code to activate the product.
Windows Generic license codes 8.1 can be obtained from the following Microsoft official website:
KMS Client Setup Keys for Windows.
Note: To activate Windows 8.1 with 8 windows license code, users must use the Change product key link in the System Properties.
STEALTH SETTINGS - How to clean install Windows 8.1 8 with a Windows product key
How can install Windows using code licensed 8.1 8 Windows