If you need to temporarily increase Windows performance you, whether you want to test a new game or you want to work with programs which require more resourcesThen you must try JetBoost.
JetBoost is a free with which we end processes si services unwanted (or we do not need at a time) that running in the background. The application comes with two profiles, game si workWhich can be selected as needed (for games or so), thus benefiting the users best performance whether they need resources for a new generation game or a complex program editing / processing.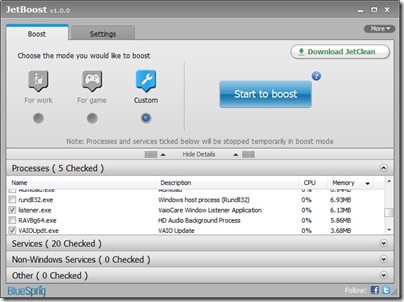 JetBoost is simple interface, Easy to understand and easy to use: After opening the selected application game mode or how workEven you can choose custom module on which it configured according to your preferencesBy selecting processes, Windows services si non-Windows which you want to stop to release more system resources (Even if in the other two modes can be set manually, are selected according to predefined settings). The program also can optimize and how it is used RAM when played games that require more memory.
Note: JetBoost is compatible with Windows XP, Windows Vista and Windows 7, both 32 bit and 64.
STEALTH SETTINGS - Boost your performance by stopping unnecessary Windows Processes running in the background
credit @bluesprig.com
How we can increase performance by turning off Windows unwanted processes running in the system