Normally, Closing time (Shut down) Of a computer cu Windows should be much shorter than start time. In some cases, though it may happen that during the closing of computers to last much more than users are willing to wait (usually this is true of old computers, or when users do not close all active applications from system). If your computer takes a long time to close after receiving signal shut down and you want to speed up closure of it, you can do this very simply by following the method below (so the system will be forced to end running processes in a much shorter time, which will decrease the time it takes to close the computer).
How to reduce the time required for Shut down for a running computer Windows?
open registry Editor (type: regedit in Run and give Enter)
navigate to key site HKEY_LOCAL_MACHINE \SYSTEM\ CurrentControlSet \ Control
under ControlIn the right pane, right click on the entry String WaitToKillServiceTimeout and select Modify
then change the value it during the Closing want to allocate system (1000 = 1 second; the value default varies depending on version Windows used)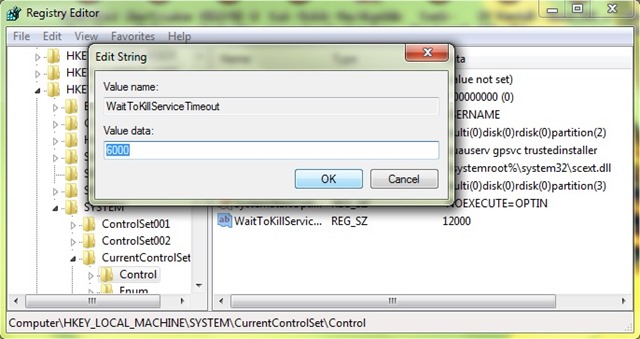 then close regedit and give restart computer
After you make this change you will notice that closing speed the computer has increased considerably.
Note: The tutorial is valid for Windows XP, Windows Vista, Windows 7 and Windows 8/8.1
STEALTH SETTINGS - How to speed up Shut down time for a Windows computer via Registry Editor