Many users Windows prefer to keep OS mounted on a SSD (Solid-State Drive) To provide a better speed thereof, and a higher resistance (Literally, given that SSDs resist well to shock or extreme temperatures). Also, the advantage of a solid state and is also translated in a the longer laptop battery life (with about an hour more unless you are using a HDD normal). If you want to replace and (at least in terms drive Which operating system is installed) HDD computer with a SSDBut you prefer not to have to reinstall WindowsIn the instructions below you will find As you can migrate the operating system on the SSD hard drive, Without having to reinstall it.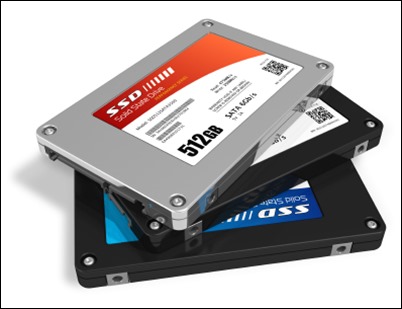 First, it is necessary defragmenting the hard drive si create a backup of the data on this (Personal data, such as the documents si audio files, photo or video saved User folderon system partition), Which you will then delete the drive is installed on the system to minimize the possible dimensions of system folders (You will transfer back to HDD After migration system). Then you need the EaseUS Todo BackupAnd, of course, a SSD (The size / space should be guided by current size of the system partition, Do not limit yourself to a size equal to the operating system folders, considering that while you do updates to it, which will also add various other files).
Download EaseUS Todo Backup Free.
after you have left the system partition (The one that is installed WinXP) Only folders files containing it (ie system files), Launch application EaseUS Todo Backup and click on the option Clone available in the left pane, then click Partition clone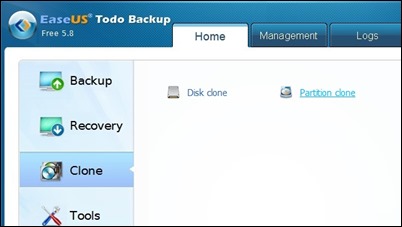 select operating system partition on HDD ca sourceand SSD select it as target (Before you click Next, Make sure you checked Optimize for SSDTo obtain performance best possible SSD after migrating OS)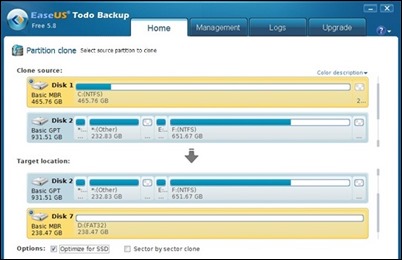 EaseUS will begin migrating HDD to SSD windows, Tick Shut down the computer When the operation completed
After which the migration of the operating system is completed, use a Installation DVD thereof for the repair bootloader on the SSD (Use option Repair your computer, Then select the SSD system, open Command Prompt ca Recovery Tool and type commands bootrec / fixmbr si bootrec / fixboot)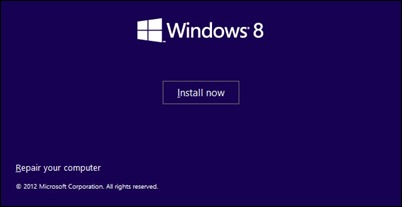 Windows boot on SSDThen open a Windows Explorer, select system partition on HDD (Partition of steps that have migrated Windows on SSD) and format it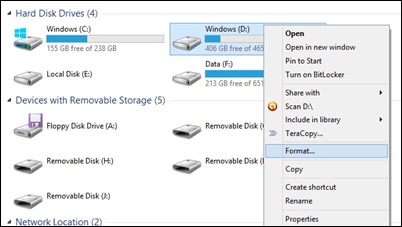 move default folder location the Customer (My Documents, My Pictures, My Music, My Videos) the newly formatted partition (Created new folders with the same name the partition, then go to the folder on the SSD UserRight click on a default folder, e.g My Documents, And select Properties> Location> Move and navigate to the new folder My Documents created HDD; repeat the process for each default folder in hand)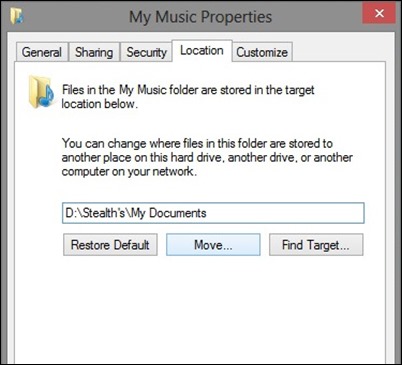 then Transfer of personal data (from backup created before migration) In the user's default folders created / located on HDD. This way you can ensure that you will be able to access personal data using shortcuts in Explorer or on the Desktop, but they will not take up precious space on the SSD.
Finally, rerun Windows Experience Index, to identify SSD as system drive (type: Windows Experience in Start Menu or Start Screen, Click on Check the Windows Experience IndexThen on Re-Run Assessment).

And ready. Following the step by step instructions above you can transfer the OS from HDD to SSD without having to reinstall Windows. Success!
STEALTH SETTINGS - How to migrate Windows from HDD to SSD without reinstalling it
How can we migrate a Windows system from HDD to SSD without reinstalling