If you are using Microsoft Office 2013 and use Outlook as client default email, You probably noticed that when minimizedIt remains present in Taskbar. If you're used to keeping Outlook open all the time and want to distract yourself from Taskbar let it be hidden in system tray (Or the Notifications area of ​​the system) to minimize, you can do so by following one of the methods below.
How can we hide Outlook in System Tray in Windows?
The simplest method is to right click on Outlook icon from systray and check the option Hide When Minimized displayed menu. After selecting this option, whenever you minimize OutlookIt will not be displayed and Taskbar, Only the Notifications area.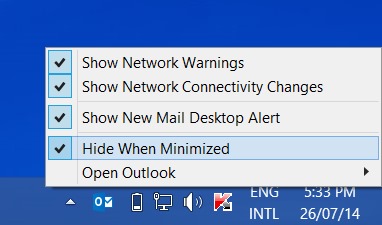 After closing the program Outlook (or after a restart system) sometimes this setting may not be retained. For a minimize permanent a Outlook in system tray use the following method:
open registry Editor and navigate to HKEY_CURRENT_USER \ Software \ Microsoft \ Office \ 15.0 \ Outlook \ Preference
then in the right pane, change the DWORD value entry MinToTray in 1
After you make these changes, Outlook will always be minimized in System Tray, regardless of whether the program (email client) or the system will be restartate. Success!
Note: Before making any changes to the system registry, make a backup or a restore point to avoid any possible consequences.
STEALTH SETTINGS - How to minimize Outlook to System Tray in Windows