One of the Feature Sites important Windows 8 is that users can install ISOs without the need to resort to third-party applications. Unlike systems Windows previousIn which we recommend to use Free application Virtual CloneDrive all those who had to mount ISO images or to install different softwareOr to play certain games, in Windows 8 can directly use the system to do this (option Mount is available in both right-click menu and the new Windows Explorer).
How to mount an ISO image in Windows 8?
The first method is the simplest: simply give right click on the image you want to mountThen select Mount menu displayed.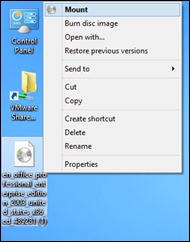 The second method implies ISO image selection in Windows Explorer. Windows 8 will detect you automatic that it is a ISO image and will display another tab in Windows Explorer, namely Disc Image Tools. Open tab, select Manage and then click the option Mount.
You will notice that the ISO image was mounted as virtual drive.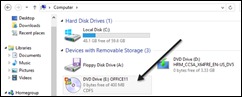 By default, the system will choose the new drive first letter availableBut this can be changed in disk Management.
Note: In the tests performed, not all ISO images could be mounted directly from Windows 8.
STEALTH SETTINGS - How to mount an ISO image in Windows 8
How to mount an ISO image in Windows 8